How to create an account and buy shares with eToro
Reading Time:
8
minutes
If you're looking to start investing, you'll need access to a brokerage account to let you buy and sell shares. This is a straightforward process, but it can feel like a daunting step.
So, to help you on your journey to financial freedom, we're going to show you exactly what you need to do to open an account with multi-asset platform eToro.
This guide will walk you through everything step-by-step. There's nothing wrong with a bit of hand-holding from time to time, especially when there's money at stake!
Along with moving through the key steps, we'll also teach you how to actually buy shares and answer some common questions.
Keep reading for a complete guide on how to open an account and buy shares with eToro. Or, click on a link below to jump straight to a specific part of the process…
What is eToro?
This is a multi-asset investment platform, created with the purpose of giving investors a huge choice of options. Alongside this, there's the addition of social features to create a vibrant investing community.
The term 'multi-asset' just means different types of investments. Access to a wide range of possibilities makes it much easier for you to create a diversified portfolio – making sure all your eggs aren't left in one basket!
Here's an example of the various investments available on the platform:
Stocks and shares
Index funds and ETFs
Commodities (oil, gold, silver etc.)
Cryptoassets (including Bitcoin and Ethereum)
Currencies (forex trading)
You can dip your toes into just about every area, which can really help as your knowledge grows.
Why open an account here?
If you're looking to find a great place to begin investing, eToro is well worth considering for the following reasons:
Access to a massive choice of investments, including some of the most popular cryptos
Zero commissions when investing in stocks and shares
No deposit fees or account opening charges
The ability to learn and even copy from more experienced investors
On top of all that, eToro also give you the chance to open a virtual portfolio. This is a demo account with $100,000 of virtual funds. The purpose is to allow you to practice and get comfortable with the platform before investing your real money.
For full disclosure, we are working in partnership with eToro right now. In large part because their investment services match up nicely with our values here at MoneyMagpie.
So, if you do decide to open an account and use our link before heading over to their website, it lets them know you're a MoneyMagpie reader. It really helps us out, making sure we're able to keep providing you top-notch info for free!
How do you open an account with eToro step-by-step?
Now that we've covered an overview of the platform, it's time to get down to business. By which I mean, the steps you need to follow to actually open an account.
So, without further ado, here's a step-by-step guide to opening an account with eToro (for free):
Step One: Sign Up and Verify Your Email
When you use our link, it will take you to the homepage where you need to click on the big green button that says 'Start Investing'.
That will take you to a new screen where you need to choose a username, enter your email, and a password.
There's also an option below to sign up using your Facebook or Google details. Once you've input everything and ticked the agreement boxes, just hit the 'Create Account' button.
Once that's done, eToro will send you an email to make sure the address you put in was correct.
Open your email account and find the email from eToro (remember to check your junk/spam folder). Then, open up the verification email, and hit the big green button that says 'Verify my Email'.
Step Two: Enter further details and your investing experience
After hitting verify on your email, it will open up a new page on your internet browser that looks like this:
Click 'Verify' to finish setting up your account profile. It will take you to a screen where you put in some further details including your date of birth.
Make sure the info you pop in here matches your ID and hit the blue arrow in the bottom right to move through each set of questions.
Next, enter your registered address along with your national insurance (NI) number and tick the box that says you're not a US citizen (providing you're not American of course!).
You'll then face a series of questions asking you about 'Your Experience' with different types of investments. Just be honest and select what's appropriate.
You'll come across a few questions about your investing knowledge with a multiple choice quiz. And then, you can choose which assets you plan on investing into. This may change as you grow as an investor.
Then, you'll get a question about your 'Trading Strategy'.
You'll also get asked about the purpose behind why you want to trade/invest.
The next few questions are to do with your attitude to risk. The figures are shown in dollars, but don't worry – your account can be based in good old British pounds.
Step Three: answer questions about your income and confirm your phone number
There'll be a few more basic questions about your employment and income.
Once that's all done, you'll have to verify your phone number by receiving a text and then putting the code they send you into the form.
Then, a final step confirming your tax residency.
You'll see a message and you can either click the button to deposit funds; or hit the 'X' and you should get taken to your main profile page which will look something like this: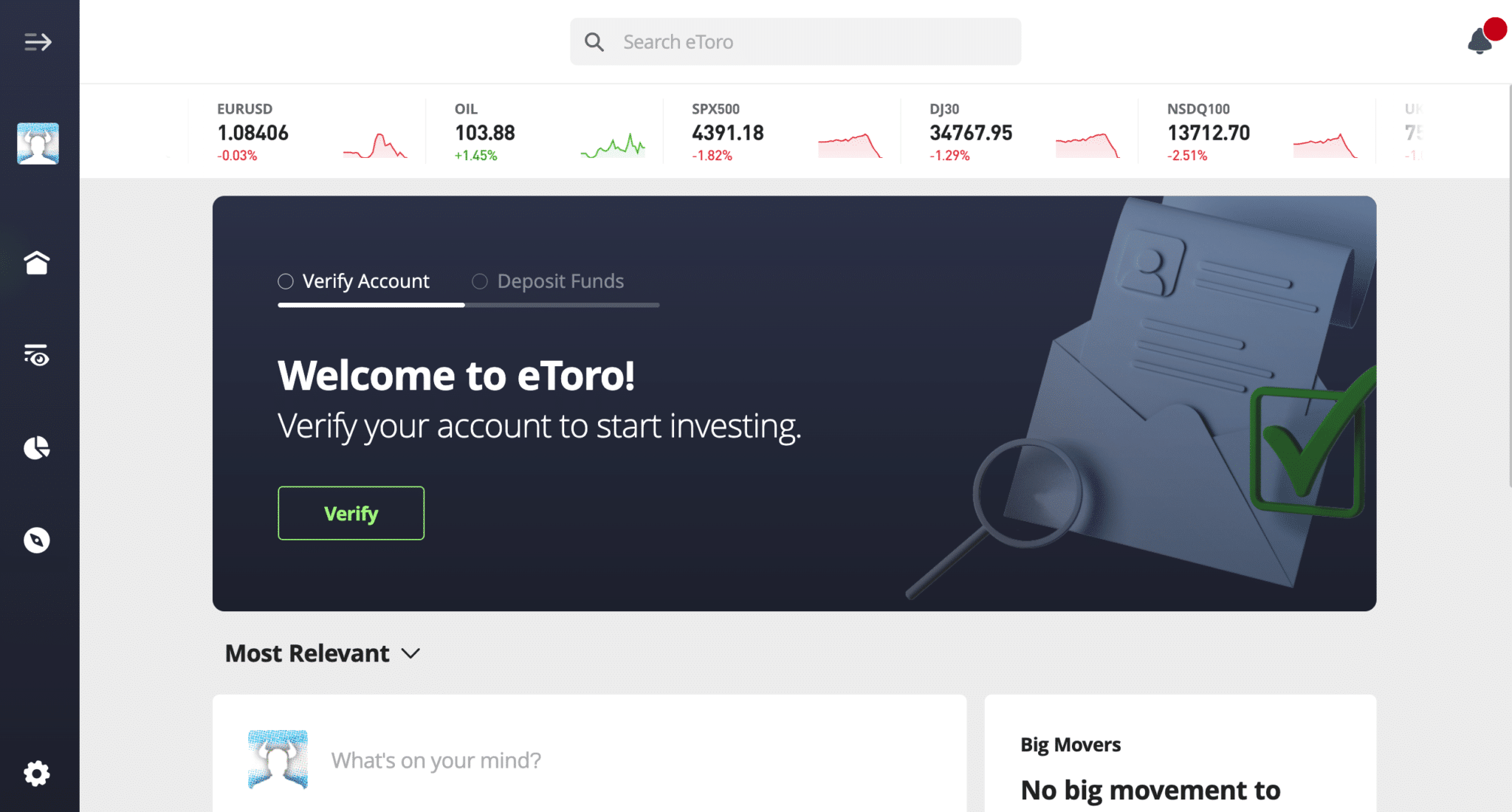 Congratulations, your account is all set up!
How do you buy stocks and shares on eToro?
Now your account is set up, if you plan on buying some shares with eToro, here's how you do it:
Step One: Deposit funds
On your main profile page, click the button in the top left of the screen with an arrow. A pop-out menu will come up and you just need to hit the blue 'deposit funds' button.
There's also a 'switch to virtual' button if you want to use the demo account. Remember to keep track of which setting you're on!
Next, enter your payment details and how much you'd like to fund your account with.
Top tip: a lot of information may show up in US dollars. In which case, if you click the cog button on the bottom left and then go into the 'general' settings, you can change your preferred currency to pounds.
Step Two: Find your investments
There are many ways to invest using eToro.
To keep things simple, the basic way to find and buy shares is to search for them in the main search bar, for example type in 'Apple' then hit the blue 'trade' button.
Step Three: Buy shares
A trade screen will pop up for your chosen investment. Now, some important information, if you want to buy shares, make sure you're on the 'buy' tab and not the 'sell' tab.
Then, enter how much you want to buy and make sure that the box saying 'leverage' is on 'X1'.
Using leverage may not be a wise choice for beginners, because it involves borrowing money to try and maximise your profits (but it can also maximise any losses).
So, it can be worth double checking you're on X1 which just means no leverage.
You can also set a 'stop loss' or a 'take profit'. This just means that you can choose to automatically sell your shares if they lose or make a certain amount of money.
Doing this is a good way to make sure you don't lose more than you're comfortable with. But, it's important to understand that investing in stocks and shares involves volatility, which means that prices will move up and down – sometimes by quite a lot.
Once you've chosen everything just hit 'Set Order' and that's it! You are now a proud owner of some shares. Pat yourself on the back.
Remember that your capital is at risk and when it comes to investing, you may get out less than what you put in. This information is just to help you understand what the process involves. You need to decide for yourself if investing is right for you and how you actually want to invest your money.
Is the eToro platform trustworthy and safe to use?
Yes, eToro is regulated in the UK by the FCA (Financial Conduct Authority). You can find the full details here.
However, it's important to remember that your capital is at risk when investing, so be aware that you can lose money and your portfolio value can down or up.
Next steps as an investor
Once you're set up and comfortable with the platform, it's time to start building your portfolio.
This will be specific to your goals and the investing strategy you decide on. We've got tonnes of resources here at MoneyMagpie to help inform you and carry out your research.
We also regularly speak to experts in free webinars and podcasts, so keep an eye out for those.
And lastly, make sure you sign up to our fortnightly Investing Newsletter to stay up to date with what's going on in the markets!
This is not financial or investment advice. Remember to do your own research and speak to a professional advisor before parting with any money.
This communication is for information and education purposes only and should not be taken as investment advice, a personal recommendation, or an offer of, or solicitation to buy or sell, any financial instruments. This material has been prepared without taking into account any particular recipient's investment objectives or financial situation, and has not been prepared in accordance with the legal and regulatory requirements to promote independent research. Any references to past or future performance of a financial instrument, index or a packaged investment product are not, and should not be taken as, a reliable indicator of future results. eToro makes no representation and assumes no liability as to the accuracy or completeness of the content of this publication.
eToro is a multi-asset investment platform. The value of your investments may go up or down. Your capital is at risk. Other fees apply. For more information, visit etoro.com/trading/fees.
Cryptoassets are highly volatile and unregulated in the UK. No consumer protection. Tax on profits may apply.