You can beat Warren Buffett with one of these funds
Are you a fan of Warren Buffett? I am. The 'Sage of Omaha' is not only the best investor on the planet (probably in history), he also has a great sense of humour.
"It's only when the tide goes out that you see who's been swimming naked" is just one of his great one-liners (and so true by the way).
He's the world's 7th richest person and his investing strategies are followed, analysed and reported on around the world. Just one share in his company, Berkshire Hathaway, costs over £300,000 (there is a B share class available to buy for around £200 a share but you would need 1,500 B shares to have the equivalent of one A share).
So, let's be honest, it's pretty much out-of-the-ballpark for most of us to own even one proper Berkshire Hathaway share right now.
But it's not the end of the world because it turns out that over the last 20 years, many, many investment trusts and investment companies have actually performed better than Berkshire Hathaway…and you can invest in those!
Here are some of the really good ones with information on who runs them and what they invest in so that you can decide if you would like to take part!
Which funds have beaten Buffett?
There are an incredible 186 funds that have beaten the Berkshire Hathaway growth record over the last twenty years.
As you can see from the table below, some of the top ones have seen remarkable growth over that time.
£1,000 put into Scottish Mortgage Investment Trust twenty years ago would now be worth £24,688
£1,000 put into Baillie Gifford Pacific Horizon Trust twenty years ago would now be worth  £24,233
£1,000 put into Aberdeen Standard Asia Focus Trust twenty years ago would now be worth £20,281
Now, as they say, 'past performance is no guarantee of future performance' but, as Laith Khalaf from AJ Bell (the company that compiled the list below) says :"it is an indication of future prospects for the fund manager. The fund is just a wrapper, and you have to look at the manager to decide whether to invest. You have some managers here who have been performing very well for twenty years.  Inevitably along the line they will have some luck but you have to be a very fanatical, ardent disciple of passive investing to suggest that having outperformed for two decades, they haven't exercised skill in achieving that."
Many of the funds and trusts in this list have invested in smaller companies, emerging markets, or specialist themes (in particular technology). There's clearly an interest in Asian companies too. They're potentially risky areas to invest in but then that means that the returns can be impressive too.
Many of the funds focus on growth companies that have really good balance sheets (little or no debt) and operate in markets where barriers to entry are huge.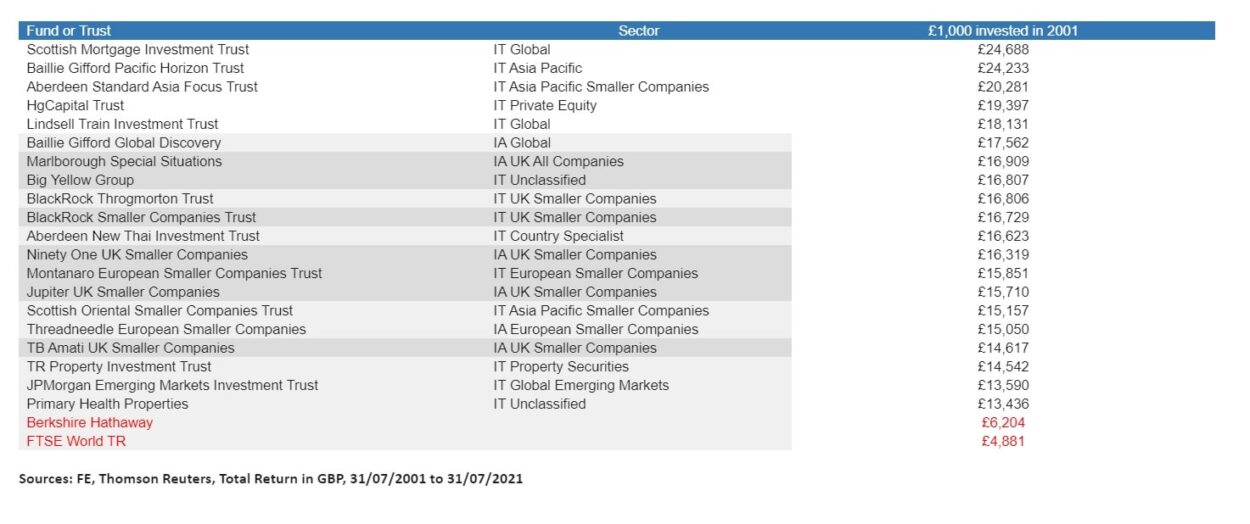 Which are particularly impressive?
Frankly you could invest in any of the companies in the table above and have a decent chance of continuing to make money with them.
However, it's rather more secure to go for a fund that has had the same manager – or managers – for a good few years.
Four of the funds featured above have managers who have been at the helm for the last twenty years, and can therefore be said to have gone property head to head with Buffett and won!
scottish mortgage
At Scottish Mortgage, James Anderson has been running the fund since 2000 and has built a reputation for picking out the most promising growth companies of the future. He will be leaving the trust next year, but his fellow managers, Tom Slater and Lawrence Burns, will continue the investment philosophy just the same.
The fund has been so successful because it has managed to identify future structural trends and it invests in quality companies that provide products and services to meet what they believe will be the needs of the future.
Corporate strategy director Catherine Flood says. "the twentieth century was the century of the computer, The twenty-first century looks like it will be the century of biology.."  The gene-sequencing giant Illumina is their largest holding and they have major investments in Moderna as well as other bio-tech companies.
The trust is also known for its large, long-term holdings in technology companies such as Amazon and Tesla, both of which remain in the portfolio even though they may not have the astounding growth potential over the next decade that they had when they were first bought.
Energy, transport and technologies that relate to those are also popular. "It's likely that there will be a nickel shortage by 2023, a lithium shortage 2028 and a cobalt shortage by 2025," says Flood, "so, as long-term investors you want to see who's going to be solving the problem that's coming down the line and how good is the management team.
She adds "we don't need to buy and sell the portfolio as Scottish Mortgage's shares are traded on the stock exchange," says Flood, "it gives us the stability to make long-term decisions. We think in five to ten-year time frames and we can use our size and scale to bring down costs. That's part of our competitive advantage. Our charges are just 0.34%."
lindsell train
Investment trusts Train Investment Trust and Finsbury Growth & Income trust are run by management duo Nick Train and Michael Lindsell.
They have delivered amazing returns for investors over a very long period, both globally and in the UK, by investing in durable, cash-generative, business franchises.
"Their philosophy is much closer to Buffett's" says Rob Morgan of Charles Stanley, "it's about holding great companies forever. They have a lot of consumer staples that are huge companies like Kraft Foods, Heineken and Mondelez. The idea with stalwarts like these is that nobody stops buying beer and sweets when there's a recession."
devon equity management european opportunities
Devon Equity Management European Opportunities has been run by Alexander Darwall since 2000.
He invests in companies that show a sustainable competitive advantage and therefore promise long term growth. Darwall also managed Jupiter European until 2019. That fund is also in AJ Bell's top ten funds. Busy man!
independent investment trust
Max Ward has also been running Independent Investment Trust since 2000, and invests on an "opportunistic, go anywhere mandate", without any index constraints.
Ward ran Scottish Mortgage investment trust from 1989 to 2000, before James Anderson took over.
He has been a long-term backer of UK housebuilding stocks, but has also invested heavily in technology through Herald Investment Trust, and more recently through other standalone investments.
How can I invest so that I make more than Buffett?
You could do worse than pick two or three of the really good products in the table above and invest in them.
Use your search engine to look up the funds and trusts mentioned above
See what they invest in, how long they've been doing it, what the managers say and what they are planning for the future
Decide whether you like their philosophy and, broadly, what they invest in.
If you like it then you can invest in those funds
Set up an investment account with one of the investing platforms (if you haven't already) and you will be able to put money into one or more of the above funds through their platform.
Disclaimer: MoneyMagpie is not a licensed financial advisor and therefore information found here including opinions, commentary, suggestions or strategies are for informational, entertainment or educational purposes only. This should not be considered as financial advice. Anyone thinking of investing should conduct their own due diligence.