Reading Time:
6
mins
Heating Oil offers an alternative to gas central heating. Approximately 1.5 million households across the UK use kerosene as an alternative to being on the national gas grid. Some people choose to install oil fired central heating whilst some homes simply aren't on the national gas grid and therefore their options are limited.
Home fuels are used more in rural areas, with 37% of rural homes using kerosene or gas oil. However heating oil can and is used in more built up areas too, for example in towns with a population of 10,000 or more 5.5% of the homes use heating oil
Get your hands on cheap heating oil
 Current prices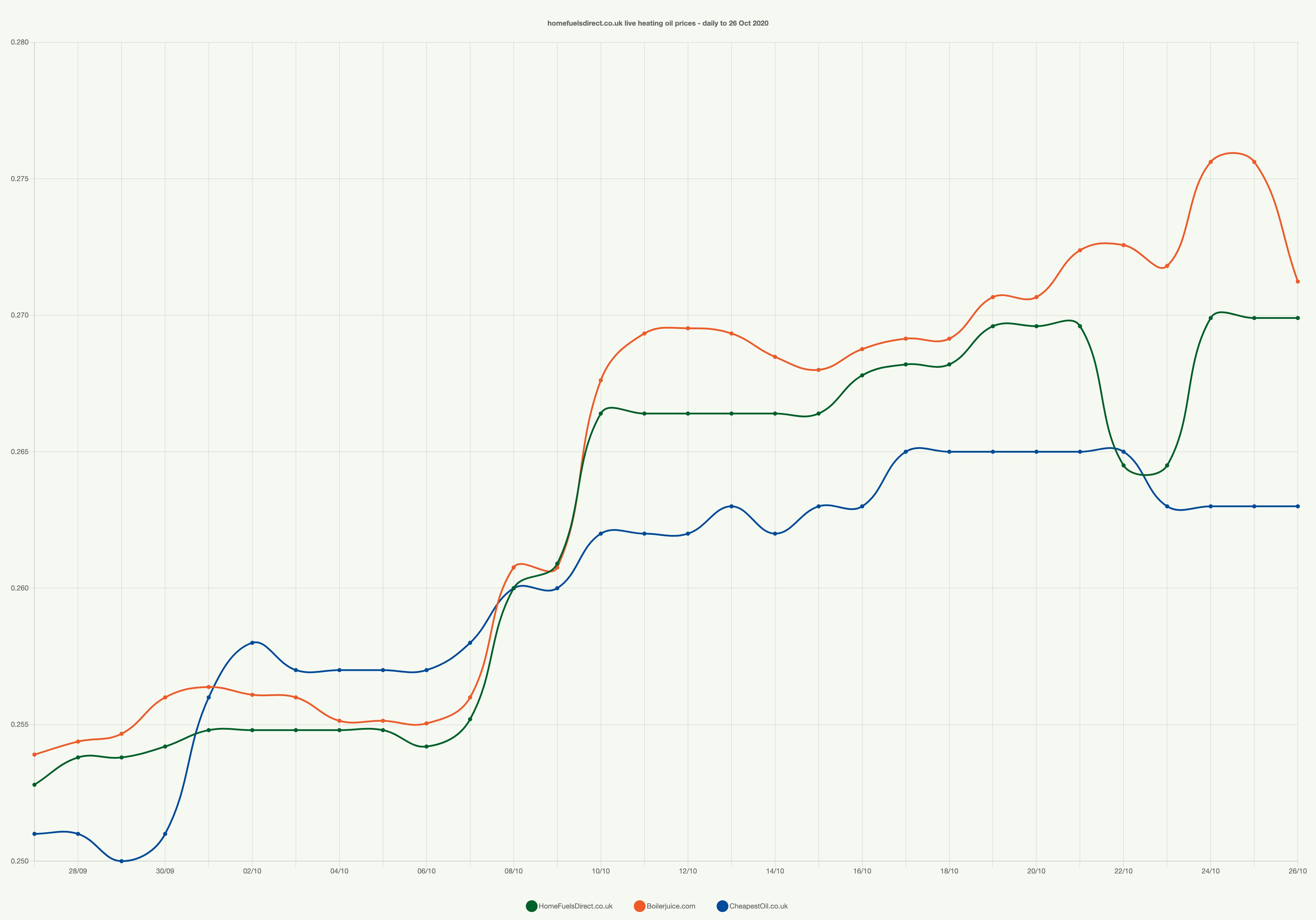 As you can see from the graph above (provided by HomeFuelsDirect.co.uk) the price of heating oil can vary dramatically from supplier to supplier. Heating Oil users often spend a lot of time calling around their local supplies and depots to get the best deal however there are now numerous companies that do this legwork for you. Using their bulk purchasing power they can often get much better deals and faster deliveries than if you were to contact suppliers direct.
HOMEFUELSDIRECT.CO.UK
HomeFuels Direct offer some of the best prices in the market and are extremely transparent with the pricing. Their instant quote form doesn't even require your email address – so no more annoying emails!
Once you've ordered your oil their advanced order tracking system shows you the progress of your order and you even receive text alerts with the delivery driver's name and registration. Worried about running out of oil? You can opt in to text reminders and HomeFuels Direct calculates when they expect your oil tank requires a top up.
Established in 2008 HomeFuels aims to make ordering your heating oil easier. Their team contact suppliers nationwide on a daily basis to offer the best heating oil prices around the UK.
A message from the Managing Director, Chris Bicknell:
"I established HomeFuels Direct in January 2008 with the intention of providing a service that is tailored around you the consumer. My aim was to create a convenient way to order heating oil and our other products and services 24/7 whilst remaining extremely transparent with pricing."
"The UK heating oil market prior to 2008 was old fashioned and did not like to bare-all so we decided to turn that upside down, strip everything right back and provide the same products and services as other providers, but at affordable prices. So if you live in England, Wales, Scotland or Northern Ireland you can benefit from the products and services we provide."
BoilerJuice
One of the best sites to visit if you are in a remote area is BoilerJuice, as they have a comprehensive directory of heating oil suppliers.
How it works
To get a free quote, all you need to do is provide your postcode, desired delivery date and the amount of oil you need. BoilerJuice will then search their databases and come up with the cheapest quote for your amount, area and preferred delivery time.
Once you've got a free quote there's no obligation to buy, so it's a good way to get an idea of prices in your area.
BoilerJuice also runs 'buying weekends' which anyone can take part in. They organise your delivery in accordance with those in your surrounding area which can save you some serious money.
In the past we have been told that once you've placed your order with BoilerJuice, you were somewhat on your own. However a spokesperson from the company has told us that they " have a customer service team, who assist our customers right through to delivery. We offer personalised assistance over the phone and rectify any problems on behalf of the customer"
Save up to £538 on your gas and electricity bills with MoneyMagpie's easy-to-use tool!
Heatingoil.co.uk
Heatingoil.co.uk is great for helping save you money, as well as having a dedicated aftersales team to deal with any issues you may have.
Their latest research shows that the 'premium' oil – or premium kerosene as it's otherwise known – will help optimise the efficiency of heating systems and save consumers money in the process. You can save money by using a higher quality oil as it increases the efficiency of your tank or boiler.
How it works
Unlike the other sites, you can buy your oil directly from Heatingoil.co.uk. Their site claims to offer lower prices because they only do quotes online. This means they have less staff and fewer overheads, so they pass the savings on to the customer.
They'll give you an instant quote if you enter your postcode. Then you can choose whether or not you want to carry on and buy your oil from them.
They also allow you to order your oil up to a month before delivery. They agree prices for up to 28 days in advance with their suppliers and you are guaranteed the price per litre you paid on the day, even if the oil price rises. Watch out though because conversely, if the price drops, you'll be paying more and if you want to cancel and re-order they'll charge you a £10 admin fee.
Unlike BoilerJuice, these guys take charge of all aftersales, so you will be dealing with them if any problems arise or if you need to cancel orders.
The best way to get the cheapest price on this site is to select a large delivery window. This flexibility means they can work your order around other orders in your area. And like BoilerJuice, these guys run group-buying days.
Make even more savings
Time your order
It's hard to predict when prices will rise and fall, but right now they are really low so it makes sense to starting looking to buy.
Ditch the direct debit
Try to avoid setting up a direct debt with a particular supplier. Being tied up to one specific company means you won't always be getting the best price, because you won't be able to choose exactly when to buy more oil. Also make sure you avoid automatic top-up schemes.
Negotiate
Never accept the first quote you're offered by an oil supplier. Although it requires more effort, it's best to follow the MoneyMagpie mantra – shop around and compare prices. You can then use these quotes to negotiate with your preferred supplier, if you have one. Or just go for the lowest quote you've received.
Order in specific amounts
Remember that tanker deliveries are designed to return to the depot empty. If there isn't enough room to put all the oil you've ordered in your tank, it will cost more for the tanker to return to the depot – and you're the one who will foot the bill.
So – to avoid paying for oil you don't get the benefit of, make sure you have enough space for the full delivery or only order the specific amount you've got room for.
Order in bulk
Getting together with your friends and neighbours from the local area will get you a better price from your oil supplier. The supplier will only have to send out one tanker that way, and they'll be able to pass the savings onto you.
In addition, the more oil you buy at one time, the more power you'll have to negotiate on price. The suppliers will be especially keen to get your business if it's a large order, and they'll be more inclined to offer you a cheaper price per litre. Don't forget to check your tank, as well as your boiler – storage tanks should also be serviced once a year to check for signs of age and need for repair. These top tips should help you find cheap heating oil.