Discounts and freebies for fabulous city living on a budget
Reading Time:
7
minutes
Life in the city is packed with fabulous possibilities: from eating and drinking, to shopping and world-class entertainment. The trouble is that making the most of all the opportunities on offer can take its toll on your bank balance. Fortunately, we have put together a guide to fabulous city living on a budget. There are plenty of discounts and freebies, so you can have more fun on a budget.
Step One: Start sharing
Make the most of the community around to you save money by sharing!
Share childcare
It's not just the cost of going out that can be crippling, but all the sundry costs surrounding it. For anyone with children, the cost of childcare can put a full stop to a night out before you start.
However, there are ways to do it for free. You can set up a babysitting circle among a group of friends, by talking to people at school or play groups. Technically you only need to find one other family to trade babysitting with to get started, although having a handful of families involved will give you more flexibility.
Coronavirus and childcare
Government guidance states that a childcare bubble may be formed to provide informal childcare for anyone under the age of 14. Every adult from both households must agree to this arrangement. For more information, read the government guidance on making a childcare bubble, here.
Trade skills
Not everyone can swap babysitting – especially single parents or those who work shifts or long hours. If a babysitting circle doesn't suit, you can tap into a skills sharing scheme too.
Local Exchange Trading Schemes (LETS) have been set up all over the country to help communities swap their skills. They work by creating a unit of 'currency', which can be collected when you provide a service . You then use this currency to 'pay'  someone to provide a service for you. If you're after childcare, for example, you might be able to cook a meal for another family to earn credits. Then you can use those credits to pay a babysitter. Check out LETSLinkUK for more information and to find your nearest scheme.
Alternatively, you can shop around for a cost-effective sitter with new technology – like the Bubble app. It's like Uber for babysitting, so you input the times and location, and the options will appear. You pick a sitter you like the look of and pay through the app.
For more tips, check out our article on cutting your childcare costs.
Share transport
If your fabulous social life requires you to get around, there are plenty of alternatives to forking out thousands of pounds for car ownership, or paying a fortune for taxis.
For longer journeys you can get pay-as-you-go access to cars all over the UK by joining a car club. Sign up with a car club like Zipcar, Enterprise Car Club or WhizzGo and rent one of their cars by either the hour or the day.
You'll have to pay an annual fee of around £50 to join, but once you do you'll be able to access cars all over your city and book a car by the hour. The club cars include breakdown cover and insurance, and you're also entitled to free fuel (around 50 miles worth).
Alternatively, look for a local car share rental club. These let you borrow someone's car – or lend yours out when you're not using it. You'll need to be at least 21 to borrow a car, and have a full driving licence with no more than six points.
If you're just looking for a lift, Liftshare lists car sharing pools that are available all around the country. Just click on a location near you and see who else is travelling your way. All you have to do is register your details and specify where and when you want to travel.
Check out other car sharing websites too – including GoCarShare and BlaBlaCar which are free to join. Just remember you have to be comfortable riding with strangers.
Compare prices and find out more with our article on alternatives to owning a car.
Coronavirus and commuting
Current Government guidance states that you should work from home where you can, avoid public transport if possible. However, if you cannot work from home you'll need to consider other transport options. Consider cycling, walking or driving by yourself.
If you still need to carpool, you should try to share with someone from your household or support bubble. Unless you can practice social distancing, you should share with the same person every time. Try your best to optimise distance, wear a face covering, clean door handles and avoid physical contact.
For more information and guidance, click here.
Step 2: Cheap nights out
We're locked down at the moment – but plan ahead for some cheap nights out this summer! Once the babysitter and transport are covered, you're ready for an amazing night out on the town for a fraction of the advertised ticket price.
Tickets
There's no reason to pay full price for West End Theatre tickets – you can purchase cheap Lastminute.com tickets for as little as a tenner. You can get tickets to watch pretty much any show and there are various deals to choose from, including dinner and a show for £20, tickets for a tenner and half-price ticket offers.
Another useful site is Love Theatre which lists various prices and websites selling tickets for both music and theatre events. It allows you to choose the date and venue, and lists all the purchasing information alongside it.
If you're happy watching previews at a discount, you should also try London Theatre's list of new openings.
It may also be worth visiting the TKTS booths on the day, where you can pick up incredibly cheap tickets. The best deals tend to be available just after 10am, when the theatres contact the booths with details of the unsold tickets for the day.
You can also watch your favourite TV programmes being recorded for free through Applause Store, which offers tickets to some of the biggest shows on TV.
For more tips, visit our guide to cheap theatre tickets.
Eat and drink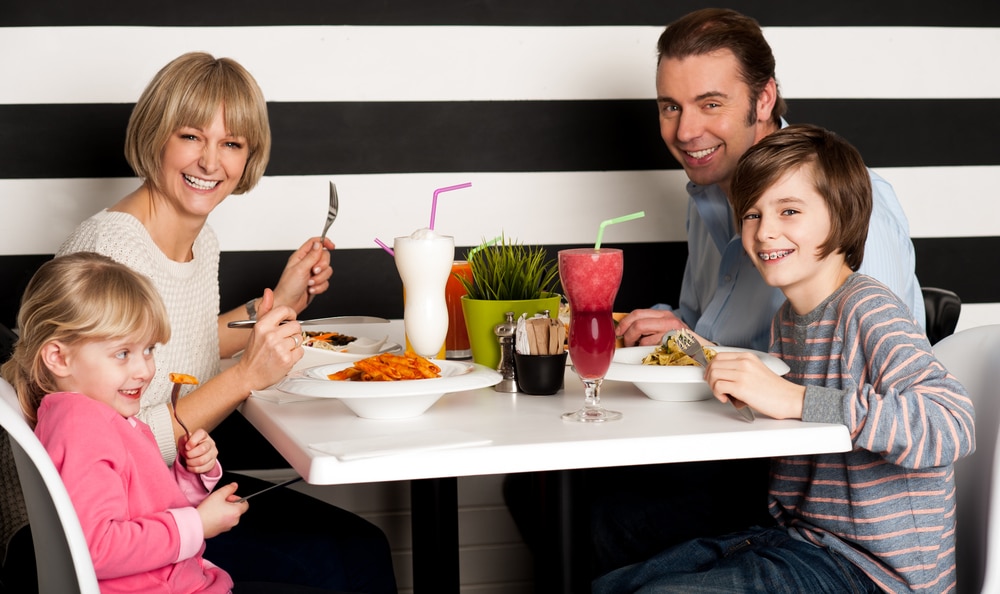 There's never any need to pay full price at a restaurant chain. There's always some sort of offer on somewhere. The best way to keep on top of the deals is to sign up for newsletters from your favourite chains. Alternatively, use voucher sites like vouchercloud.com or vouchercodes.co.uk, where there are endless deals.
You can get great deals at fancy restaurants too. OpenTable is a useful place to start, because it has special offers at restaurants throughout the UK. It's also worth considering going to lunch rather than dinner, where set menus can be a real bargain.
If you don't want to spend anything at all, have a look at the freebies available through your supermarket loyalty cards. Sometimes you can swap points for four times the value to spend in some chains, which will go far further than you think. Check out our guide to eating for free for more freebie ideas.
Step 3: City chic on a budget
If looking fabulous is part of any night out, then you can save a fortune by shopping online. Sign up to the newsletters from your favourite brands – which will often give you an introductory discount and will alert you to any sales. You should also search the 'clearance' sections of the website for hidden bargains.
Samples
You can get big-name brands at sample sale prices with certain special fashion websites. By setting an alert on Lyst you can snap up designer bargain before anyone else. So if you love your Balenciaga handbags and Jimmy Choo shoes, visit the website and sign up to the alerts to be the first in line to save hundreds on designer gear.
At the Real Real there are designer brands with huge reductions (and we mean huge). Again you can simply browse the items on the site – or sign up to the members' club for exclusive offers and preview sales.
Here are some other fashion sites you might like to sign up to:
Just make sure you set up a separate email account purely for things like this, so your normal account doesn't get clogged up with junk.
For loads more great fashion advice, read our article, 4 Ways to Revamp Your Wardrobe on a Budget.
Beauty
You can also snap up affordable beauty treats by shopping online. Feel Unique has a special offers text box with a drop-down menu. This lists all the free gifts that are available with purchases – so take a look to see what's up for grabs. It's also great for saving money on designer perfume. Other sites that sell branded perfume at low prices are All Beauty, the Perfume Shop and Fragrance Direct.
Step 4: stop wasting money
Fabulous city living on a budget doesn't always come free. If you're going to afford to be fabulous, you need to stop wasting money elsewhere. Everyone's wasteful habits are different, so think carefully about yours, and check out these handy articles to find ways to cut your costs.