Does your home insurance cover storm damage?
Reading Time:
5
minutes
Eunice took the UK by storm (quite literally) on Friday 18th February. Much of the country experienced high force winds – up to 90 mph in some parts – and it was branded the worst storm in 30 years by meteorologists. With any great storm, however, comes great devastation, and it is imperative to know whether your home insurance will cover storm damage.
Damaged fences, greenhouses and power cuts were just the tip of the iceberg. Many places experienced trees being ripped from their roots and falling on cars and homes in their path. People lost part of their roofing, and sea surges caused severe flooding in homes and businesses across the UK. The O2 Arena in London even lost a portion of it's white tented roof.
With another storm – this time named Franklin – already finding its way to us, more damage is likely to come. It is important to know about cover for storm damage, and whether your home insurance will cover you in a stressful time such as this.
What is storm damage?
The Financial Ombudsman defines the word storm as "[Something that] generally involves violent winds, usually accompanied by rain, hail or snow". However, it is important to note that different insurers define this term differently.
Most home and contents policies will cover you for damage caused by a storm or severe weather events. This damage may include water damage, damage caused by lightning, roof tiles being blown off your home and of course, damage caused by falling trees and other debris.
Be aware, however, that some policies will not cover damage to items such as fences, hedges, gates or sheds. Policies may not cover anything outside of the actual home itself, so be sure to double check your policy.
Similarly, storm and weather damage insurance often comes as part of your home insurance package, but cover levels differ depend on what your provider offers, and whether you have special cover for severe weather events.
Steps to take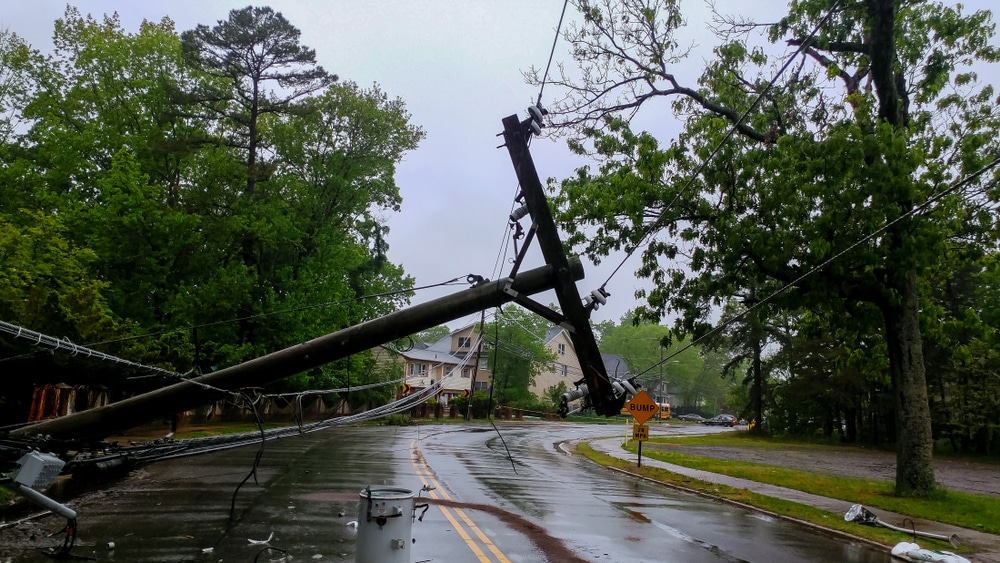 If storm Eunice left you needing to make a claim, it is important to know the steps to take to ensure everything runs as smoothly as possible. The first step is to contact your insurer as soon as you can. Calling them and talking through any damages incurred will aid them in being able to give you valuable advice or explain your policy to you in greater detail.
If you need emergency repairs, such as to burst pipes or smashed windows, keep any receipts as evidence of money spent for these repairs. You may be able to get this money reimbursed as part of your claim.
Keep any items that are damaged and take as many photos and videos as you can. The more evidence you have, the quicker your claim can be made. Similarly, jot down the date and time of the photographs and videos. This is proof the damage occurred at this time.
What do insurers look at?
As with any insurance claims, whether it be for your home, car or health, the providers will do thorough checks to make sure the claim is genuine and something they are liable to help with.
The Financial Ombudsman suggest there are three main questions asked when assessing storm damage. These are;
Do we agree that storm conditions occurred on or around the date the damage is said to have happened?
Is the damage claimed for consistent with what we generally see as storm damage?
Were storm conditions the main cause of the damage or were there other factors that meant the damage might have happened anyway?
Insurers will take into account other elements, such as weather reports from the time of the damage, the wording on your policy and the general condition of the property. Weather reports help providers to determine the severity of the storm. It is also useful for them to see where the storm was located in relation to the property.
The condition of the property before the storm, although relatively hard to prove, is taken into account, as if the property was in bad condition before the storm, insurers may suggest this as the reason for the damage and not the storm itself. Their argument would be that had maintenance been regular to prevent general wear and tear or deterioration over time, the storm would not have damaged the home to that extent.
An example of this may be that if water damage occurred as the result of blocked drains or gutters, insurers may suggest the property was not being maintained and might reject the claim.
How to protect your property
There are many ways to maintain your property. This both protects it from weather damage in the first place, or to avoid your claim being rejected.
Confused.com suggests the following ways to protect your property in advance:
Clear your gutters at least twice a year and check them again after a period of heavy rainfall
Check your attic for any signs of water damage
If possible, inspect your roof for any loose tiles or other damage
Prune shrubs and trees regularly to reduce the risk of debris
Remove any creeping plants on the outside of the house
Examine the trees near your property and remove branches that could potentially damage your home in a storm
Disputing a rejected claim
A rejected home insurance claim can be frustrating. If you feel your claim has been refused unfairly by your provider, it can be particularly aggravating. So now what?
It is important to take a calm and measured approach to this to begin with. Checking your policy is the first step to take. Make a note of anything in the policy you think backs up your claim and helps make it valid.
Compare The Market suggest noting down any wording in your policy that may be ambiguous or needlessly complex. Highlight any wording that suggests you should be covered under your provider. Make a note of any information your provider did not originally ask for, which they are now saying you should have disclosed to them.
Once you have this information, it is time to get back in contact with your home insurance provider. Try and resolve any issues regarding the refusal of your claim. If your claim was rejected on the grounds you did not offer enough evidence, you could ask to elaborate or send off more proof.
If your provider is unwilling to negotiate your claim further, and you still feel you are being unfairly treated by them, you should make a formal complaint. Every insurer has a unique complaints process, so you will need to follow the steps for your provider.