Benefits for over 60s
Reading Time:
20
minutes
Turning 60 needn't be a milestone to dread: there are plenty of things to look forward to, including a host of exciting perks and freebies, and a number of incredibly valuable benefits for over 60s. This article came about when we were asked a question:
With this in mind, we have tracked down the best benefits for over 60s. Not only that, we've found all the great opportunities you can take advantage of such as being paid to complete online surveys on sites like Inbox Pounds.
However, if you've found any other fantastic goodies and discounts, or have any more questions, make sure you let us know over on the Magpie Messageboard!
Free benefits and great discounts for over 60s
Once you turn 60, you're eligible for all sorts of discounts! Here's what to look out for.
Health & Education
Looking after yourself doesn't need to cost a lot!
Free prescriptions
You now qualify for free prescriptions from the NHS. When you collect from the pharmacy, there's a box on the back of your prescription slip to tick and sign. That's it! No more £8 charge for every prescription you need.
Optical discounts
Get free eye tests to keep your prescription up-to-date. The optician is often the first port of call for spotting various diseases, too – the back of your eye can tell a lot about your health! So it's important to get an eye test every two years even if you don't think you need glasses.
You can also save money on your glasses, too. Specsavers offers a 20% discount on all glasses and lenses over £69 – and it's worth asking your local independent optician about any deals, too.
Adult Education grants
Keep learning your whole life to stay sharp and curious! Your local council will run lots of workshops, lectures, and classes for you to try. Check out other lifelong learning centres too, like the University of the Third Age.
Many of these courses are free for over 60s. However, if you need to pay course fees check if there's a concession for over 60s – or talk to your local council about getting an adult education grant to fund some or all of the course costs.
Travel
Make the most of free and discounted travel to get out and about and enjoy exploring the UK and beyond!
Free Bus Pass
The free bus pass scheme has slightly different rules for each country in the UK. Those in Scotland, Wales and Ireland can apply for one when they turn 60. In England you need to be the Female State Pension age (whether you're a man or woman) to apply. The exception here is if you live in London, when you can apply for a free bus pass when you're 60. Remember, you usually cannot use your bus pass in other parts of the UK, for instance you cannot use a bus pass bought in England in Scotland. Always check restrictions before travelling.
The pass used to provide free travel at any time. However, it is now available for off-peak travel only in most areas. We recommend you check your local authority website before travelling. (If you have a Disabled Person's Bus Pass, you can still travel any time). Off-peak travel is any time between 9.00am and 11pm Monday to Friday, and all day at weekends.
Coach discounts
Over 60s in England and Wales can buy a Senior Coachcard for £12.50 (plus £2.50 P&P) for a third off all National Express coach fares. You can also bag extra discounts with £15 anywhere returns on Tuesdays, Wednesdays, and Thursdays if you book 3 or more days in advance.
Train Discounts
A Senior Railcard is £30 per year (or £70 for three years). It gives you savings on a wide range of tickets, including many First Class, Standard, Advance tickets and off peak bookings – except for journeys made during morning peak time tickets in London and the South East/ Network Rail area. Always check with the service provider about Railcard restrictions before booking your tickets, as exemptions can and do change from route to route and at different times.
You can buy a Senior Railcard online, at any staffed National Rail ticket office, or call 0345 3000 250.
If you're in receipt of certain disability benefits, such as Attendance Allowance, you could qualify for a Disabled Persons Railcard instead. This is £20 a year (or £54 for three years) and it offers one third off rail tickets for you AND your carer companion.
Book tickets online
Using sites like Raileasy or Red Spotted Hanky can knock up to 80% off your train tickets. So, if you don't travel by train frequently enough to justify a Senior Railcard, make sure you look online for rail discounts. Buying in advance also reduces the price of a ticket by quite a lot – just make sure you opt for a refundable ticket option, just in case you can't make the journey for any reason.
Save on London Travel
Residents of London over 66 can buy a Freedom Pass. This encompasses free off-peak travel on trains, tubes, trams, and buses in London (that means after 9am weekdays, anytime at weekends and bank holidays). If you were born before 6th April 1950, you're automatically eligible. Those born on or after 6th October 1954 have to wait until they reach the age of 66. The Freedom Pass website has an eligibility checker to find out exactly when you can claim your pass. Remember: Older Person's Freedom Pass and 60+ card is ONLY valid after 9.00am on weekdays and at all times at weekends and Bank Holidays.
In the meantime, if you are over 60 you can get a 60+ London Oyster Photocard which means you can travel free on TfL services from 9am weekdays and anytime at the weekend and on bank holidays.
Interrail
Those aged 60 or over can get 10% off fares with Interrail, which allows you to travel across Europe by train – with the possibility of visiting over 30 European countries! The discount is available for 1st or 2nd class travel.
Home and leisure discounts
You don't need to go out and about to get discounts for the over 60s! And, if you want to leave the comfort of home, you can save hundreds every year on entertainment and leisure activities, too.
Home
Save on the running costs of your home throughout the year with these discounts.
Free Gas Safety Checks
Contact your provider to find out if they offer a free gas safety check for over 60s. Gas Safe Register offer a free gas safety inspection if you've had work carried out in the last six months, too.
Winter fuel payment
Those born on or before 25th September 1956 qualify for the Winter Fuel Payment – that means money off your winter heating bills. The rules about who is eligible and the amount you might get are very specific so it's important to check the website for the eligibility criteria. For instance, a rather odd requirement is that to be eligible for the 2022-2023 allowance, you must be living in the UK for at least one day during the week of 19th – 25th September 2022 (or the equivalent week in subsequent years). You also need to be State Pension age or receive Pension Credit.
Discounts for repairs and improvements
If you need home repairs, such as if your washing machine gives up the ghost, your local trades may offer an over 60s discount. Ask your friends for recommendations first, or check out AgeUk's Handy Person Services.  Remember, local traders might not advertise a senior citizens' discount, so it's always worth asking!
Disabled facilities grants
Over 60s who need to make adaptations to their homes to help them stay independent could qualify for a Disabled Facilities Grant. So, if you need to install ramps, a stairlift, or convert your bathroom to a wet room, your local council could help you pay for this.
This grant is available to anyone needing to adapt their home – so if you're not quite 60 yet (or your partner under 60 needs the help), you can still apply! Find out more here or contact your local council to arrange an assessment.
Free boilers
People in receipt of some benefits, such as Pension Credit or Attendance Allowance, or can prove a low income (such as living off the State Pension), may get a free boiler.
Your boiler needs to be at least ten years old and not a condenser boiler. If this sounds like you, find out more about free boiler grants here  or here for those claiming attendance allowance.You could also be eligible for free insulation grants to improve the energy efficiency of your home.
A free, new, A+ rated boiler could make a massive difference to your energy use – and the cost of your bills. Old boilers waste a lot of energy, so you're spending money needlessly. They're also more prone to breakdown, so cost more in repairs and maintenance, too.
Leisure and entertainment discounts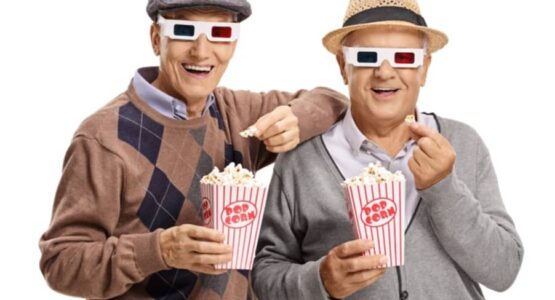 Theatre and cinema discounts
Check your local theatres for concessionary rates for the over 60s. You could also look for cheaper cinema tickets, too. Many cinemas have 'silver screen' matinee showings – for example, the ODEON Silver Screen offers discounted viewings at quieter times from only £4 per ticket (online booking) or £5 a ticket (in person).
The first place to look for these discounts is directly with the theatre or cinema. For example, the National Theatre offers £20 off midweek matinees for the over 60s. The Royal Shakespeare Company has a 20% discount available for the over 65s on all seats for Monday and Tuesday evening performances and all midweek matinees.
You may find your local newspaper or radio station offers entertainment discounts for the over 60s, too – so it's well worth checking them for info!
Iceland/THE Food Warehouse 10% off on Tuesdays!
Every Tuesday, all those who are 60 years old and older can bag 10% off their shop, with no minimum spend, at Iceland and The Food Warehouse. To Redeem the offer, just show one of the following:
Senior Bus Pass
Driver's Licence
The Senior Railcard
Freedom Pass (London only)
ATS Euromaster CLUB 60
Get a range of benefits when you join ATS Euromaster's Club 60 Membership:
MOT for just £32 or just £25 with a Service
Air Con Recharge for just £49 (R134A gas only)
Wheel Alignment for only £39.49
15% off Servicing, Brakes, Steering & Suspension, Exhausts, Batteries & more
15% off Michelin, BFgoodrich, Avon and Tigar Tyres!
Check the website for the application form and always read the terms and conditions!
Abakhan
10% off every Wednesday for the over 60s! Simply show your bus pass, senior railcard or any other photographic ID with proof of age at the till.
BOOTS REWARDS
Over 60s can get additional rewards from their Boots Advantage Card, earning 8 points per £1 on Boots brands and selected exclusive deals, including 200 points when you sign up for a free hearing test!
Swimming and gym reduced membership
Keep fit for less! Over 60s receive discounted swimming and gym membership at most leisure centres. Council-run centres may also run free exercise classes for the over 60s in a specialised programme to help older people stay fit and mobile. Remember to check online for free day or week passes, too – we love Hussle for this.
Hairdressing discounts
Your nearest salon or barbers is likely to offer concession rates for the over 60s. Some offer these at any time, while others will have set times or days. Your local mobile hairdresser is worth checking out, too – they'll come to your home for your haircut, so you don't have to go anywhere! Mobile hairdressers are often cheaper than salons anyway, so add a senior citizens' discount on top and you'll get a cheap cut indeed!
Try your local beauty college, too. They need people to practice beauty therapies, massage, and hair cuts on! Students supervised by experienced tutors will use you as their model, and you'll get a free or very-cheap treatment while helping someone's education, too.
Restaurant deals for over 60s
Lots of restaurants offer an early dinner discount for over 60s. Look for special offers like a '5pm dinner deal' to take advantage. Also, remember to check Groupon for local dining discounts and your Nectar card or Tesco Clubcard for deals, you can often trade your points for money off vouchers at selected restaurants
If you regularly go out to eat, consider signing up to Tastecard, too. It'll give you 2 for 1 or 50% off deals in loads of your local independent and chain restaurants.
Royal Horticultural Society membership
The RHS offers more than £500 off lifetime membership, which includes unlimited access to RHS gardens, a free magazine delivered to your door and discounted tickets to garden shows such as the Chelsea Flower Show. Over 60s membership is called Senior Life and is £935 for individuals and £1355 for a joint membership.
heritage discounts
Make the most of your cheap travel discounts for days out at museums and heritage sites!
The National Trust gives over 60s (who have had a membership for at least 5 out of the last 10 years) a discount on their annual and life memberships – making your visits cost 25% less. This applies to both houses and gardens, so you can go to any National Trust property across the UK for less. They often offer tea rooms, lovely walks, and guided tours for a gentle day out that's ideal whether you're on your own or with friends and family. Lots of their properties also allow dogs in the gardens (check the website in advance) so you can take Rover for a walk, too!
English Heritage offers joint and individual memberships, but the concessionary rate starts a little later, at age 65. If you're disabled, no matter your age, you can bring a carer companion for free for each visit – so, if you have a Blue Badge, even if you're not yet 65, a membership is essentially half price as you can take a guest with you each time. You could also opt for Lifetime Membership – though it's not cheap at £1240 for individuals over 65 (£1580 for under-65s). However, if you regularly take day trips, an English Heritage site average entrance fee is around £8 – so any membership tier is worth the investment! Some sites, like Stonehenge, are around £26 each – so it's easy to see how quickly your savings add up.
Kew Gardens offer concessions to those over 65 (you may need to show some form of identification with proof of age for admittance).
The Ramblers Association
If you are over 60 you are eligible for a concessionary rate for lifetime membership – phone 020 3961 3300 and speak to a member of the team for more information.
Free and discounted Museums
Lots of museums and art galleries across the UK are free entry for everyone. The Natural History Museum, Science Museum, and V&A in London are classic examples. However, every major city has at least one free entry museum!
They also offer concessionary discounts for over 60s on ticketed exhibitions and events. Paid-for museums will also offer a lower rate for over 60s on their entrance fee – and, again, if one of you is disabled you can often take a carer companion for free, too.
Get the financial benefits you're entitled to:
Here's a run-down of the financial benefits you may be entitled to – simply click on the one you're interested in to skip to that section:
State Pension 
You are entitled to a State Pension when you reach the appropriate age.
For years the State Pension age was 65 for men and 60 for women, but this figure is steadily rising. In 2022 the State Pension age is 66 for both men and women, with plans to raise it even higher in the future. If you're in any doubt as to when you can start claiming your pension, use Gov.uk's simple State Pension Age Calculator.
State retirement pensions are based on your National Insurance contributions throughout your working life. How many you need depends on the type of State Pension you can claim.  Everyone over the age of 80 can claim the Over 80 pension, though, even without NI contributions. This is a total of £85 a week. If you get a reduced State Pension below £85 a week, you'll get the Over 80 Pension to top you up to that amount.
Basic State Pension
If you're a man born before 6th April 1951, or a woman born before 6th April 1953, you'll get the Basic State Pension. This is a maximum of £141.85 a week in the 2022/23 tax year.
Each year, the amount is assessed and goes up in line with either the rise in average wage earnings in the UK, or the percentage growth in consumer prices, or 2.5% – whichever is highest.
You must have at least 30 full years of National Insurance contributions to claim the full Basic State Pension.
New State Pension
If you're a man born on or after 6 April 1951 or a woman born on or after 6 April 1953 you will be getting the new State Pension.
The full New State Pension is £185.15 a week.
You need 35 qualifying years of National Insurance contributions or credits to get the full State Pension. If you have less than 35 years you may get a smaller amount, but you will usually need at least 10 qualifying years on your National Insurance record to get any new state pension.
Find out more about the New State Pension changes here.
Are you missing a pension?
As we move homes over the years, and change jobs, it's easy to forget about old company pensions we paid into aeons ago. Forgetting to update your pension provider with your latest address, for example, means you won't get your annual statements in the post. Without such reminders around, it's not hard to see why there's an estimated £19 BILLION in forgotten pension pots!
Trace old pensions on the Government's Pensions Tracing website. You never know, there might be an old pension hanging about from a company you worked for years ago, so find out if you have cash just waiting to be claimed.
Pension Credit 
If you're on a low income you may be entitled to Pension Credit. This is made up of two parts and no tax is payable on either:
Guarantee Credit – this is for people over 60. It guarantees an income of at least £182.60 per week if you are single, or £278.70 per week if you have a spouse or civil partner.
Savings Credit – this rewards over 65s who have saved towards their retirement. It pays up to £14.48 per week if you are single or £16.20 per week if you're married or have a civil partner.
If you have reached State Pension age on or after 6 April 2016 and are on the new flat rate pension, you may still be eligible for the Guarantee Credit, but will not receive Savings Credit.
Follow this link for further information about Pension Credit, and use this Pension Credit calculator to see how much you could be entitled to.
Council Tax Reduction and Housing Help
You may be able to get help with paying your council tax through claiming Council Tax Reduction.  If you are a tenant you may be able to get help with paying your rent through claiming Housing Benefit. Both Council Tax Reduction and Housing Benefit are paid by your local council.
If you live with someone with a severe physical or mental impairment – such as Alzheimer's – you could qualify for additional Council Tax discounts and financial support from your local authority.
You can contact your local council and ask about Housing Benefit and Council Tax Reduction or use Gov.uk's simple Benefits Adviser Tool.
What you get depends on:
Where you live – each council runs its own scheme
Your circumstances (e.g., income, number of children, benefits, residency status)
Your household income – this includes savings, pensions and your partner's income
Whether your children live with you
If other adults live with you
For people claiming Pension Credit you're entitled to maximum Housing benefit and Council Tax Support
If you are an owner-occupier you may be entitled to help with mortgage interest or service charges through Pension Credit
Funeral payments 
If you are receiving Pension Credit or Housing Benefit, you may be entitled to help with funeral costs should your partner die – even if you have savings.
The Funeral Expenses Payment offers up to £1000 and can cover necessary burial or cremation fees, funeral director's fees, the coffin or flowers. If the deceased had a funeral payment plan in place, you can apply for a maximum grant of £120 to cover costs of things not paid for by their plan.
You must claim within six months of the funeral, and the Funeral Payment must be repaid from the estate of the deceased if there is money in their estate. If they had no assets or capital, the grant doesn't have to be repaid. Go to Gov.uk for more information or download the Funeral Payment claim form.
Winter Fuel Payment
Those born on or before 25th September 1956 qualify for the Winter Fuel Payment – that means money off your winter heating bills. The rules about who is eligible and the amount you might get are very specific so it's important to check the website for the eligibility criteria. For instance, a rather odd requirement is that to be eligible for the 2022-2023 allowance, you must be living in the UK for at least one day during the week of 19th – 25th September 2022 (or the equivalent week in subsequent years). You also need to be State Pension age or receive Pension Credit.
And don't forget to see if you can save money by switching your utilities provider. Nine out of ten people who use our comparison tool can save money on their bills – in fact the average customer can save £207 by switching. Use our comparison tool so you can save money today. 
Cold Weather Payment
If you're eligible for Pension Credit or certain other benefits, you could be entitled to Cold Weather Payments too.
These payments are designed to help cover your heating costs when the weather gets extremely cold between 1 November and 31 March. You'll receive your Cold Weather Payment entitlement of £25 if your local temperature is recorded or forecast as being on average 0°C or below for seven consecutive days. As payment is automatic you don't need to worry about making a claim, but if you think you've missed out tell the Pension Service or Jobcentre Plus.
attendance allowance
A lot of over-65s don't realise that they're eligible for a weekly payment from the Government if they need help with personal care during the day or night (or both).
This is called 'Attendance Allowance'. You have to need regular help because of an illness or disability. It's only for those who've reached state pension age, though. If you're under 66, you may be eligible for Personal Independence Paymentinstead, which is a similar benefit for those not yet old enough.
You can claim Attendance Allowance if:
You're of State Pension age (even if you're not claiming it yet)
Someone helps you with personal care, such as getting washed or dressed, or supervision to keep you safe during the day or night
You have any type of disability or illness, including sight or hearing impairments, or mental health issues such as dementia
you've already required help for at least 6 months. (If you're terminally ill you can make a claim straight away.)
There are two types of Attendance Allowance:
£61.85 per week if you need help during the day OR during the night
£92.40 per week if you need help both day and night or if you are terminally ill.
The benefits of Attendance Allowance:
It's tax-free
You can use it in any way you like to meet your needs and stay independent in your own home
The money doesn't have to be spent on a carer. For example, if a weekly cleaner would help you, that'll help pay for it.
Claiming Attendance Allowance won't reduce any other income you receive.
It could entitle you to further benefits, such as Pension Credit, Housing Benefit or Council Tax Reduction, or an increase in these benefits if you're already receiving them.
Attendance Allowance isn't means-tested so it doesn't matter how much income and savings you have.
To claim:
Call the Attendance Allowance helpline on 0800 731 0122 (textphone: 0800 731 0317) to get a form
Or download it from the GOV UK website:
Write on the form about how well you can cope with basic activities, like moving around the house and going to the toilet. Be very clear about how difficult it is for you to cope on your own so that those reading it know that you need extra help. If you have a fluctuating condition, like rheumatoid arthritis, write how it affects you on your very worst days.
REMEMBER…
If you'd like any help finding out whether or not you're owed benefits, call Age UK for free on 0800 055 6112. Just because you haven't been able to claim in the past doesn't mean you won't be able to now – and you've got nothing to lose by asking.
Age UK also offer a  FREE online booklet which will guide you through how to apply for benefits. Make the most out of resources like this as they really can save you a packet. Claim your free booklet right here.
Also, see what b benefits you could be entitled to by using the benefits calculator at
Get more out of your savings
Savings products aimed at the over 60s have grown in recent times, particularly online savings accounts. You don't even need a computer to access them: some great savings apps, like Moneybox, can be operated from your mobile phone. These apps are great for 'sweeping' cash into savings, too: they can round up your spending to the nearest pound. The 'spare change' goes into your savings pot, so it's always topped up here and there.
Don't forget, you can save up to £20,000 per tax year (April 6th to April 5th) in ISAs without paying tax on it. This can be split between a Cash ISA, Stocks and Shares ISA, and an Innovative Finance ISA – or put the whole lot in one of them – it's up to you!
Interest rates are still historically pretty low right now – and you may have seen your pension pot decrease dramatically recently. Try not to panic: the market goes down, but it has to go up again, too! If you're worried, move your cash into a savings account rather than any stocks and shares you may have. However, returns are bad these days, with around a 1% rate on most easy-access accounts. You can lock in money for a few years to get a better rate – but even then, it's only around 2% for most accounts. Check out our savings articles for more info!
Insurance policies for over 60s
Many insurance companies offer special policies for the over 60s. Whether you need medical, travel, car, or home insurance, check with providers to find out if they offer a discounted rate. You may also find that you'll get an even better deal by 'bundling' your insurance policies with the same provider – such as home and car insurance together. It also means you pay one premium a month, rather than lots of different ones, so it's much easier to keep track of what's going out of your account!
Life insurance policies target the over 55s, but make sure you read the fine print. You may find that they won't pay out within a certain 'qualifying period' which can be up to a year. Other policies will be invalid if you don't declare any pre-existing health conditions, too.
Get cheaper home insurance
If you're 60 or over, you can often benefit from cheaper home insurance.
Many companies offer special discounts to this market, as they recognise that older people generally make fewer and smaller claims. So, to reflect that, they offer cheaper policies (especially if you live in a low-crime area). Some insurance providers also offer higher buildings and contents cover and/or new for old replacement on damaged or stolen items.
It's worth using our free comparison tool to get a broad sweep of the market. Remember that not every insurance provider is covered by a comparison tool website – so you may need to compare quotes directly with individual providers like Direct Line.
Other home insurance providers to look out for include AgeUK and SAGA. Both offer policies for over 60s that give peace of mind and value for money.
For more ways to save money on your home expenses, download our free eBook – '101 Tips to Save Money in the Home'. This will give you ideas on how to cut your costs in your kitchen, garden, bathroom, bedroom and more.
Best travel insurance for over 65s
We get asked a lot about travel insurance for over 60s, so we're always on the lookout for great offers. There are deals to be found, for instance Staysure offers tailored travel insurance to cover any pre-existing medical conditions, however it can be hard to find cover the older you get.
Finding it tough to get cover?
Many travel insurance providers have restrictive criteria for older people, because they're more likely to have health problems. Many won't insure you if you've already got a serious condition, or you could find medical cover extortionate.
There ARE policies out there that cover over 60s with pre-existing medical conditions, though. AllClear, for example, accepts over 60s with medical conditions for both single and multi-trip cover. Before you sign a contract with ANY travel insurance company, make sure you read ALL the small print in the policy contract. It's tedious – but essential – as many will have hidden clauses that'll get them out of refunding you.
For more information, we've got a whole article dedicated to cheaper travel insurance for over 65s – it's got everything you need to know, so take a look.
Also, if you're fit, healthy and haven't claimed on a travel insurance policy for some years, you should also just look on the open market. Try our comparison table for travel insurance and see what's on offer!
Remember – given the current state of the travel industry, make sure your insurance covers delays and cancellations, strikes and also check out their Covid cover!
NEW! Moneymagpie Top Tip
Whatever you're doing, but particularly if you would like to take out a new credit card or loan, it's essential to have a good credit score. If you're not sure what yours is, or if you suspect it's a bit poor, you can check it for FREE.
In fact, check your credit score FREE forever courtesy of Experian. 
If yours is low they will give you advice on how to improve your credit rating, as well as giving you help to manage your report. You also get access to expert tips and tools and the chance to find out your credit score.
"But does it really matter that my credit rating is poor?"
It matters very, very much. Having a poor credit rating could stop you from getting a loan or a decent credit card deal. It could also mean you end up paying extortionate interest rates on any financial deals that the bank is prepared to offer you. Insurance policies also check your credit report – so you could pay a LOT more in premiums if your score is low.
See our tips on how to clean up your credit record.
NEW! Valuable money-making ideas for over 60s
It's lovely and easy for over 60s to make money now. You don't even have to leave home! For example, online surveys are a fantastic way to make money on the side for minimum effort.
They're also a MoneyMagpie Reader Favourite (thousands of you have signed-up), so if you haven't joined already we really recommend that you give them a go. Sign yourself up to these FREE online survey sites today – the more you sign up to the more cash you can make.
Here are the best ones…
Top Tip! NEVER pay to join an online survey site – use the companies we've recommended above and you won't have to part with a penny. Find out everything you need to know about making money from online surveys right here.
Find out lots more fun ways for over-60s to make money here.
More Useful Reading
Want to make and save yet more money? Check out these lovely links!