Have a cheap holiday in the UK with the kids
Reading Time:
10
minutes
Many Brits will be doing their annual holiday at home in the UK this year to cut costs. But travelling around the UK can sometimes work out just as expensive if you're not careful. We show you how to save money with these top tips, whether you're looking for cheap accommodation, best value parking or free days out.
Holiday in London with the kids on the cheap
Cheapest accommodation

price comparison sites
Hotel price comparison sites are a godsend but we recommend using at least three to be sure you're getting the very best prices. You'll probably already know about sites such as
Hotelclub.com and
Laterooms but
Trivago.co.uk is another lesser known site that often comes up trumps.
We also like Hotelly.com which has some fantastic video reviews
and if you're on a budget, but are willing to be flexible on exactly where you travel to, Priceline allows you to name a price and destination and it will find accommodation to fit your budget.
However, always check directly with the hotel to see if they can offer you a better deal.
You can also save 45% on luxury hotels through Lastminute.com's 'top secret hotels' promotions. The way it works is to offer a host of cheap four and five star hotel rooms – but without telling you which hotel it is until after you've book it. This may sound a bit scary but you do know where the hotel is situated as well as its star rating and a basic description of facilities. The idea behind all the secrecy is that top class hotels can fill their rooms without having to reveal to their regular patrons that they are willing to drop their rates, so you can actually secure yourself a stay in a gorgeous hotel for a fraction of the price.
Earn cashback on your holiday
Pay for your holiday online and see if you can get cashback by shopping through sites such as
There are plenty of theses sites around and absolutely nothing to stop you signing up to several of them – particularly because different sites cover different retailers but note that they will only pay out once you've accumulated a set amount of cashback.
On average, the payout will be between roughly 2.5% and 10 per cent of the price of the holiday.
Cheaper transport
Travelling around the UK can soon rack up big bills but there are simple ways to cut costs. Take a look at Megabus for prices from as little as £1! National Express is also a really useful site offering competitive fares to lots of UK destinations. They often run promotions for trips from as little as £1 but they do tend to go pretty quickly so sign up to the newsletter and you'll be the first to know about the latest special offers.
Perfect for families, National Express also has a 2plus2 annual family pass for £16 a year which allows two full paying adults to take two children for free. You can also purchase a Brit Xplorer pass from National Express for £79, which allows unlimited travel in England, Scotland and Wales for a set period of time. There are three different passes to choose from – Hobo which lasts 7 days at £79, Footloose for 14 days at £139 and Rolling Stone for 28 days at £219.
For train tickets a family and friends railcard allows four adults and four children to travel on one card. The pass costs £26 and saves adults a third of all fares and 60% of children's fares on travel throughout the UK. To buy your pass, visit the Family and Friends railcard website. Find more money-saving ideas in our article on getting the cheapest train tickets.
Bid for your UK holiday
Head to the eBay site where you can grab a real holiday bargain. The auction site has a pretty extensive holiday and travel section covering airlines, cruises, hotels, B&Bs, packaged holidays, car hire, coach holidays.
Try not to get carried away with the bidding or you'll end up paying over the odds, but if you set yourself a realistic budget you can pick up a great deal because travel companies recognise the benefit of selling unsold rooms or deals at a reduced rate.
eBay does have a Fraud Protection Programme which pays out up to £120 but always do your research before bidding and take a look at the sellers 'Feedback Profile' which lists comments from other bidders who have used them previously.
Gumtree is another fantastic site for picking up other people's holiday leftovers – often because they can no longer take their holiday and would rather sell it on cheaply, instead of losing out completely. Go to the 'Stuff for Sale' section and then under the 'tickets' tab. There are new entries everyday so keep checking to see what comes up  –  but – never hand over cash before meeting (in public) in person.
Family fun on a budget
LetsGoWithTheChildren.co.uk is the must-see website for parents planning on a family holiday in the UK. The search facility is brilliant for finding great places to visit this summer. You can set a budget and search by age of children, location, indoor/outdoor activities, category (such as animals, museums, sport) and of course price – but don't forget to check out all the free things to do in the UK. Simply select the 'free' option from the price drop down menu when you search.
LetsGoWithTheChildren.co.uk has one of the most extensive search engines we've found so it really is one not to miss. Also they were kind enough to write a helpful directory for us full of great places to visit this summer and they rather helpfully organised it by theme so whether you're a family of adventurous explorers, animal lovers or arts and crafts enthusiasts you'll find the perfect place to visit.
Exchange points for holiday freebies
Trade in your Nectar points for travel bargains. Earning Nectar points couldn't be easier – it has partnerships with many different companies, including online shopping sites like Amazon, restaurants, petrol from BP and of course Sainsbury's.
Once you've built up enough points you can exchange them for vouchers and get money off hotels, flights and transport. Nectar has some fantastic travel partnerships including Expedia, Eurostar and Orient Express.
With Expedia, 2,000 points are worth a £10 voucher and to redeem points all you have to do is visit the website, pick a hotel and then call Nectar's redemption helpline on 0844 811 0811 to exchange your points for a 'money off' voucher. Nectar will then put the voucher into your Expedia account – which can then be used next time you book online at Expedia. The voucher is then valid for one year.
Discover a different side to the UK with the Orient Express which runs the Northern Belle and British Pullman trains. If you're planning a trip on the Orient Express you can save 35% when booking 6 to 8 months before departure, or 25% when booking 3 to 6 months before departure and 15% when booking less than 3 months before departure.
Both trains offer day and weekend trips from London and other cities to various UK destinations. You'll be travelling in style too – the British Pullman consists of restored vintage carriages, while the Northern Belle features exquisite marquetry panels.
If you're having a staycation however, you can still take advantage of some great Nectar discounts. Currently Nectar points are worth double at Legoland Windsor, Thorpe Park and Alton Towers at the minute – 500 points gives you £5 off – so there's no excuse to not get out there! Nectar have also teamed up with ASK to offer cardholders a double value discount: for every 500 points you can get £5 off your bill. Check out the Nectar website for more details.
Triple power Tesco Clubcard points
Make the most of your Tesco loyalty points by spending them on fun days out with the family this summer but make sure you spend your points online for better value. Tesco Clubcard points are worth four times more when you spend them online rather than in-store. So for every £2.50 worth of vouchers you can spend £10 worth of deals tokens. These tokens can then be spent on fun days out, airmiles, restaurants and activity days.
Campsite savings
Pitch a tent at one of the many UK campsites for a budget family break. If you're struggling for inspiration Holidaypad.net is a great place to start. UKCampsite.co.uk also has a useful search facility which enables you to whittle down results by features or facilities that you want such as adults only, fishing etc.
To get you started here are a few campsites we've heard good things about:
Bay View Farm, Cornwall – camp from £10 per day to £20.00 during high season, then an extra £3.00 per day for electric hook up). Static caravans are also available for hire from £150 per week (for two adults and two children).
Blackberrywood, East Sussex –  prices range from £5-8 for adults depending on when you stay and kids under 12 can stay for half the price (children under 3 stay for free). The cost is £5 per tent, per night or stay in a static caravan for £15 per night. Or if you fancy camping in style why not cheat and stay in a "holiday bus" for £50 per night.
Treen Farm, Penzance– for two adults (£4 each) and one 12 year-old (£2) staying in a family tent (£4) travelling in one car  (£1) the cost per night would be £15.
For something a bit different, why not stay in a pod – which look like small wooden huts – the National Trust has three pod sites, at Great Langdale, Wasdale and Low Wray which cost between £25 and £45 a night depending on the size you go for.  Visit the National Trust website here for more information and pictures of the pods.
Dine for less on holiday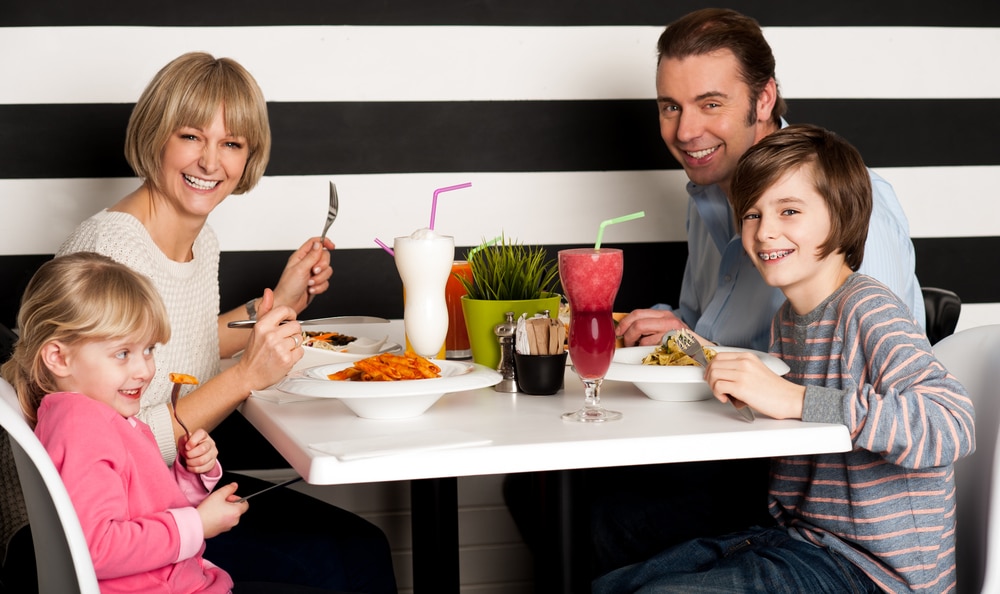 Wherever you end up this summer make sure you've signed up with OpenTable before you go. OpenTable members gain points every time they book a meal through the site – and once you've built up enough you can even put those points towards a free meal. OpenTable covers lots of cities and towns in the UK (as well as abroad) and there are always great deals to be found – simply click on the 'special offers' box on the city/town of your choice and see where all the bargains are.
Cheapest car hire
If you're planning a city trip and need to drive around a lot don't hire a car – join a car club instead for a cheaper and more convenient way to get around. Zipcar has the cheapest annual fee for just £25 and costs from £3.95 per hour or £29 per day, with 60 free miles per day and then a charge of 23p per extra mile. However, this is only for London so if you're going elsewhere try City Car Club and look at our alternatives to owning a car article for more information on how car clubs work.
A taste of the exotic…on your doorstep
Take advantage of all the summer festivals and events – many of which are free – for that summer holiday feeling without the price tag. Here are some upcoming events:
Burgess Park, South London, 1 August 2010. Follow the carnival procession to Burgess Park at Latin American festival Carnaval de Pueblo. Expect vibrant Latino music to kick off the party and lots of traditional food and drink to enjoy. There will even be the Open Salsa Dance Championship held in the park to watch or take part in if the mood takes you. Kids will love the children's zone which has bouncy castles, workshops and fairground rides.
Imaginate Festival, Edinburgh, 10 May to 16 May. The Bank of England Imaginate Festival is the UK's largest performing arts festival for children, and as it celebrates its 21st birthday this year things are set to be bigger and better than ever before. A colourful and imaginative line-up of world class entertainers will perform in venues throughout Edinburgh, having been hand-picked from theatre companies across Europe for their skill and individuality. To see what's on and where the various shows are being hosted, see the website.
Glanusk Park, Brecon Beacons, Wales, August 20 to August 22. For folk fans the Green Man Festival offers an array of film, literature, art, dance and music, with this years line-up featuring the Doves and Beirut to name just a few of the acts. Adult tickets costs £120 and student tickets £104. Check out various other prices and deals, as well the rest of the line up on their website.
Gunnersbury Park, Ealing, Sunday 8 August. Experience South Asian music and culture from midday to 8.30pm as Bhangra and Bollywood come to London bringing food, crafts stalls, dancing, circus acts and a Magic Mela kids area with them. A perfect day out of friends, couples and parents wanting to broaden their children's horizons.
Charlton Park, Wiltshire, July. Arts galore at WOMAD UK. An international arts festival,the central aim of WOMAD is to celebrate the world's many forms of music, arts and dance.
Sign up for special offers
Take advantage of promotional offers from travel companies – set up a new email account so that your personal account doesn't get clogged up with spam. One of the best newsletters to sign up for is Lastminute.com – which will give you early bird access to their amazing one day sales which run throughout the year and offer impressive discounts that tend to go really, really quickly. Travelzoo also has its extremely popular Top 20 newsletter which highlights that week's best travel bargains on the internet.
Also, make sure you sign up for our free bargain alerts and our free weekly newsletter – we're always on the hunt for the very best deals on everything from travel to supermarket shopping and we often have exclusive special offers just for you MoneyMagpies.