Know your UK motoring laws or get fined up to £5,000!
Reading Time:
6
minutes
Sometimes it can feel overwhelming trying to keep up with the laws of the road. It can seem difficult to understand what is legal and what is not. Myths about driving also impede the truth about UK motoring laws.
Myths include the suggestion that if a speed camera doesn't flash, you won't get fined for speeding. Or, that you can't be prosecuted for driving too slowly. Even doing an illegal manoeuvre, such as driving through a red light or completely mounting a kerb, in order to make way for an emergency vehicle could get you in trouble.
This is why it is imperative that you brush up on the UK motoring laws, as there may be many you didn't even know existed. With fines of up to £5,000 as a potential punishment for breaking the laws, you will be glad you gave yourself a refresher!
The uk's most confused drivers
According to Gumtree, some parts of the UK are more confused than others when it comes to motoring laws. As of July 2021, the UK cities with the highest volume of internet searches for 'driving laws', 'weird driving laws' and 'UK driving laws' are as follows:
So, what are some of the laws you need to be aware of?
stationary idling
Potential fine: £20 – £80
Stationary idling is when you leave the engine of your vehicle running whilst parked in the road or in a public place. You could find yourself slapped with a £20 fine. It may not seem much, but get caught multiple times and it all adds up!
Plus, in areas such as London, where there are extra measures to cut emissions, you could face fines of £80.
Using your mobile phone at a drive-thru
Potential fine: £200
It may be surprising, but using your mobile phone whilst waiting for your burger and fries could land you with a hefty £200 to pay. Not only this, but you could get six penalty points on your licence. You may even lose your licence altogether if you have only recently passed your test.
It is estimated that one in 10 Brits use their phone to pay at drive-thrus. So, what about if you want to pay for your McDonalds, KFC or Burger King with your Apple or Google Pay?
If this is the case, you must ensure your engine is turned off and your handbrake is on before paying with your mobile phone. It is recommended you pay with cash or your card to avoid getting into any trouble!
Having unreadable licence plates
Potential fine: £1,000
A vehicle's number plate is arguably one of the most important ways to identify drivers, particularly after an incident. They are also used to ensure a driver's insurance and ownership of the car.
Therefore, if your licence plate is unreadable or has been obscured in some way, you could get fined £1,000. You will also automatically fail an MOT as a result of this.
Splashing people when driving through puddles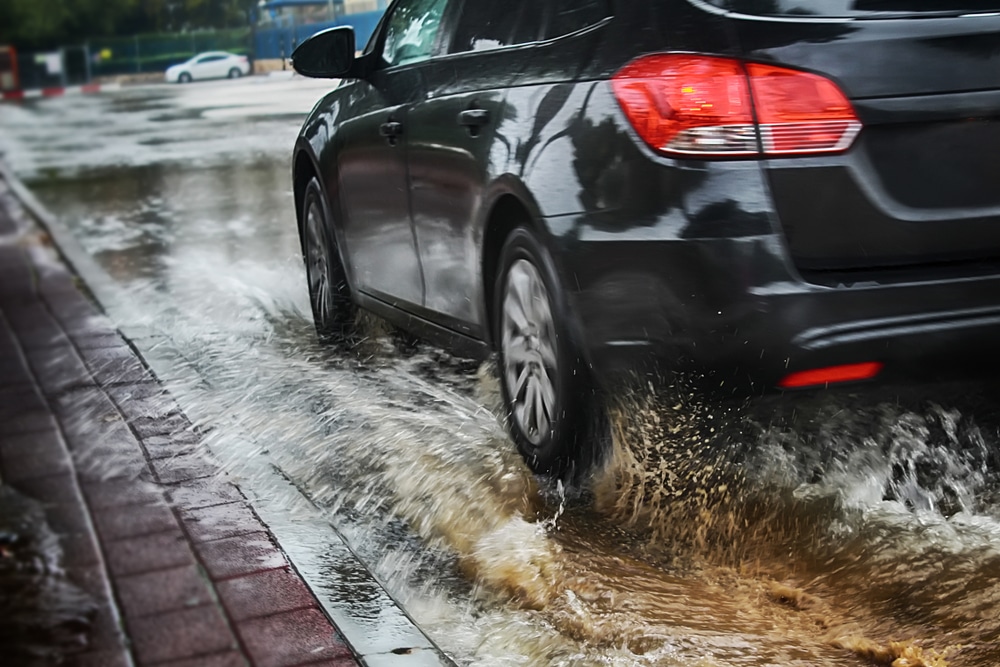 Potential fine: £100 – £5,000
We have all been there. You are minding your own business, walking down the street, when someone speeds by and goes through a puddle. Most of the time, you are lucky enough to get away with only soggy feet, but from time to time you are covered head to toe in water as a result.
If you are lucky enough that it has never happened to you, you have likely seen it happen to someone else. It's humiliating and most of all, downright annoying.
That is why it is an illegal offence to splash someone as you drive by, and you could find yourself having to pay £5,000 in fines. So, next time you see a puddle, think twice about speeding through it, and save your wallet the stress!
Accepting money for giving lifts
Potential fine: £2,500
It may have never crossed your mind that it is illegal to accept money for giving friends or family a lift. We have all picked up someone from the pub or the airport as an act of kindness. They may have even slipped you a fiver as a token of their thanks, and thinking nothing of it, you have continued on with your day.
However, if you are caught accepting money from someone in exchange for giving them a lift, you may get into trouble. But why is this seemingly simple favour illegal?
According to UK laws, profiting from this when you are not a licenced taxi with the right documentation is not allowed. This is mainly because UK taxicab services are heavily regulated.
So, next time you offer your friend a lift back from the train station, make sure you don't accept payment. This could land you with a £2,500 fine and your insurance could be invalidated.
Swearing at other drivers
Potential fine: £1,000
Have you ever been on the receiving end of road rage? You may have been sworn at, shouted at or even received some unpleasant gestures from another driver. You may have even lost your temper yourself in the past.
If you are caught swearing, or you are reported to the police by another driver, you could get in trouble. In the eyes of the law, this is seen as anti-social behaviour.
Under the Crime and Disorder Act 1998, you could receive a fine of £1,000. So, next time another driver leaves you furious, take a deep breath. You could be saving yourself £1,000.
Other laws you need to know
Smoking – If you smoke in your vehicle in the presence of any children under the age of 18, you could face a £50 fine
Having snow on your roof – We know it is a chore to clear your vehicle of snow and ice in the depths of winter. However, if you do not clear any snow from your roof before driving, you may face a £60 fine. Not only this, but you could find yourself with three points on your licence.
Parking facing oncoming traffic at night – Doing this, even to park up for a moment, could result in a fixed penalty being placed on your vehicle. If an accident occurs because of this, you could go to court for failure to comply with the Highway Code.
Dogs – You may allow your pooch to hang their head out the window and feel the breeze in their fur. Be careful, as this could result in nine points on your licence.
Using your horn whilst stationary – Beeping the horn whilst not moving could result in a £50 fine. Plus, it is illegal to use your horn between then hours of 11pm and 7am, unless another vehicle poses a genuine risk. If taken to court, the fine could reach £1,000.
Flashing drivers to warn of speed cameras – Warning drivers of upcoming speed cameras by flashing them could result in a £1,000 fine.
Sleeping in your car whilst drunk – Perhaps having a nap in your car after a few drinks can seem harmless, but it comes with the most severe punishment out of all the rules. You could receive 10 points on your licence, a 12-month driving ban, and even a jail sentence.
Securing your devices – If you use your mobile phone as a sat nav from time to time, you must make sure it is in a secure location and does not distract from driving. Failure to comply will result in six points on your licence and a £200 fine. If you passed your driving test in the last two years, you would have your licence revoked.
Disclaimer: MoneyMagpie is not a licensed financial advisor and therefore information found here including opinions, commentary, suggestions or strategies are for informational, entertainment or educational purposes only. This should not be considered as financial advice. Anyone thinking of investing should conduct their own due diligence.