Make money selling your body
Reading Time:
12
minutes
Did you know that you can make good money selling your body?
…no we don't mean like that!
The law is strict in prohibiting the sale of body parts but there are plenty of legal, decent ways you can sell your body (or parts of it, at least!) that can make you a bit of extra cash.
From your hair to your eggs to your likeness to a celebrity, you can make money from your body.
In fact, if you take part in clinical trials, you can make up to £5,040 for one trial using just your body, so there's big money to be made.
Consider which of the below listed ways of making money by selling your body you think you'd be able to do and, if you feel comfortable and safe of course, go ahead and do it!
Sell your hair
Science may have decoded DNA, cloned sheep and put man on the moon, but it still hasn't cured baldness.
Wigs, hair extensions and hair pieces are always in demand so if you're willing to give your hair a snip you could make a pretty penny from your luscious tresses.
Hair Harvest will pay up to £200 for your hair, and they'll even cut your hair off right then on the spot. WigsUK pay by the ounce, and offer between £3-£5 depending on how long your hair is.
If you're planning on selling your hair however, it is important to start preparing.
Most companies will want hair that has had no chemical treatment, so your hair can't be coloured, permed, highlighted or tinted.
Your hair will need to be clean, healthy and shiny, usually at least six inches, and remember that cigarettes or traces of drugs that you have taken will linger in your hair long after you have washed it.
To keep your hair healthy have regular trims to keep away split ends, give up your hair dryers, curling irons and flattening irons as these dry out your hair, and go au natural – beer, avocado and egg whites make excellent hair conditioners.
If your hair is an unusual colour then you should expect to receive more money for it. It's best to ask a wig maker how much your hair is worth before you chop it all off, so you don't make any decisions you end up regretting.
To make money selling your body, you have to market your new product online. Firstly, try buyandsellhair.com, a classified ad site for buyers and sellers of human hair worldwide.
To advertise is quite cheap, only $14.50 for three months, and all transactions are managed through PayPal. They take no commission on completed sales and everything you make will be yours, so it's worth trying out.
Otherwise there is always Gumtree or Craigslist. Also, check our article on making money selling your hair and see the companies that have left comments on the article.
Just make sure you have clear, accurate pictures, a description and contact details.
You could also advertise yourself places other people haven't thought of. For example hairstylists need extensions, hair colleges will need human hair and even high-quality paint brushes use human hair.
Thinking outside of the box when you are out trying to make money selling your body might just pay off!
Be a milkwoman
Selling breast milk online is a growing trend in the UK. In 2019 mothers are still selling their breast milk at £1 an ounce on Facebook!
If you want to make money selling your body and you have a surplus of breast milk, there are other mothers out there who would be willing to buy it. Sites such as Onlythebreast.co.uk allow you to put up ads and give you the freedom to charge what you like for your milk. As the practice is fairly new, the selling of breast milk is unregulated which means there are potential dangers for the buyer.
If you do plan on selling breast milk you should have yourself screened to make sure you don't pass on any infections.
If you feel uncomfortable with selling your milk but you do have a surplus you can always donate to a milk bank for free. This will provide milk for babies whose mothers haven't been able to produce breast milk and for babies in the Special Care Babies Unit who are dependent upon breast milk donations.
See our article on selling your breast milk for all the contact details for charity and commercial places that will take your milk.
Get into drugs!
Another way to make money selling your body is by taking part in paid clinical trials – up to £5,040!
Before jumping in, however, it's important to consider the effect the treatment could have on your body and whether the money is really worth the potential risk you could be putting yourself in.
There are several different kinds of tests to partake in, some with fewer health risks than others.
You can take part in
psychology tests,
sleep deprivation studies
diet and nutritional studies
…which are non-invasive and, therefore, safer.
However, drug trials, which carry the most potential risk, are the most common form of trial with the easiest earning potential when you want to make money selling your body. As a health volunteer, you will probably be partaking in Phase One trials, which is the first trial where the drug is administered to a human. The study aims to see what happens to the drug from the moment it enters the human body to the point it is excreted. Whilst partaking in a study you may have to stay in accommodation for a few days/weeks where entertainment and food is provided for free.
No matter who you are or what your current health situation is, there will likely be a trial out there that you can partake in.
Some, for example, require healthy non-smoking adults with no previous medical conditions, and others require that the women who take part are past fertility so they are not harmed by the drug in any way. Other tests require that you suffer from a certain condition so that they can test a drug's efficacy. The amount of money you can make depends on what trial you are taking part in, how long it goes on for and how invasive the trial will be.
You can earn anything from a few hundred pounds to a few thousand pounds.
For example, Trials4us do overnight trials which offer £120 for every 24 hours you spend with them.
FluCamp, in London, offers up to £3,750 for taking part in one of their studies but their clinical trials last between 10-18 days, involve having to contract some kind of cold, flu or respiratory virus and the treatments may not only be nasal sprays and pills, but also injections and drips.
There are many sites around that will help you find trials to partake in and make money selling your body. It's particularly useful if you have a condition that you would like the opportunity to test drugs for because you can type in your condition and a location and see what results arise.
Other sites that are worth checking out include:
Trials4us – The UK's largest clinical research organisation.
Londontrials – a London based research unit with an exceptional record for safety.
Uk.testwiththebest – Offers earnings of between £500 – £5,040 depending on what trial you partake in.
Flucamp – As mentioned earlier, FluCamp offers up to £3,750 to take part in flu based trials that last between 10 – 18 days.
For psychological, diet and sleep studies, it's worth contacting local universities and seeing if there are any such trials being run at the time.
There are legitimate questions to be raised about the safety of various clinical trials, particularly in light of the 2006 'Elephant Man trial'  which left six healthy volunteers with organ failure and likely to develop auto-immune diseases or cancer.
The vast majority of research trials go ahead without incident but safety precautions can only reduce risk, it cannot remove it.
However, as a volunteer, you will be fighting against diseases and ailments that plague thousands of people. Ultimately only you know whether you feel comfortable and safe taking part in clinical trials as a way to make money selling your body.
If you're not sure and would like more information then read our complete article on making money taking part in paid clinical trials.
Give something serious
Some organisations will pay you to give blood, so if you're not squeamish at the thought of a needle, it might be a good way to make money selling your body.
For example, trials4us offer £100 per 600 mls of blood (or pay at a proportionate rate.)
They also offer £5 towards your travel expenses.
However, the FDA forbids payment for blood and UK hospitals are not allowed to use blood donated for money, based on the logic that blood donated for free is likely to be healthier.
Get your kit off for the artists
Life modelling is perhaps the ultimate way to make money selling your body. You can make around £10 an hour and hopefully end up with some (yes…hopefully!) beautiful paintings and sculptures.
Before you jump in however, you need to consider if it is really for you.
You'll have to be comfortable with people staring intensely at you – whilst you're naked!
Sessions tend to go on for about three hours, with a couple of breaks, so you'll have to be ok holding the same position for a while.
Equally, they may expect you to have some of your own poses, so it's good to have a few prepared.
It's also not uncommon to be asked to model with someone of the opposite sex.
So do make sure life modelling is something you'll be comfortable with as a way to make money selling your body.
Pay varies, but you can expect to earn between £8-£12 an hour, largely depending on whereabouts in the country you are based.
Some people, however, have told us they earn up to £40 a class.
Modelling is considered a professional occupation. You'll find most work won't get paid in cash so prepare to have to work on PAYE and supply a National Insurance number.
For more information about making extra cash read our full article about making extra money and paying more tax.
To get started your first port of call should be local art colleges and education centres. Also keep an eye out for adverts in shop windows, newspapers and online.
There's also a great website – The Arts Model Register – which acts as a sort of unofficial modelling union and features jobs from all over the country.
If you don't feel comfortable with the idea of completely nude modelling as a way to make money selling your body, then there are other opportunities.
For more information please read our article on making money as a life model.
Help people make babies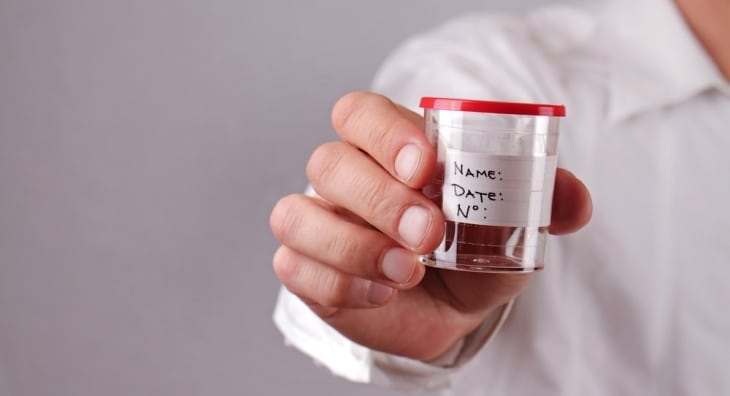 Selling your sperm or eggs for money might initially sound a little desperate but it is perfectly legal in the UK and helps otherwise childless couples create the family they have always wanted.
Sperm
Sperm donation is pretty easy, in fact some may consider it making money from a leisure activity. Donors are usually expected to be between 18-41, although centres can assess potential donors on a case by case basis, but many men are turned away because the quality of their sperm isn't good enough. Neither sexuality nor intelligence are considering factors when selecting donors, the only necessities are you should not have a history of sexually transmitted infections or a family history of inheritable disorders.
To begin making money selling your body as a sperm donor, you'll be asked to produce a semen sample by the clinic which will then be screened in a laboratory. Donors are advised to abstain from sexual activity five days before producing the sample. To ensure your sperm is of good quality, do not smoke or take recreational drugs, limit your alcohol to the (admittedly) meagre recommended weekly allowance and cut back on your red meat consumption. A blood sample will also be taken to screen for any genetic disorders and sexually transmitted diseases such as HIV.
If you're accepted as a sperm donor and you agree to enter the programme then you'll need to sign legal forms giving your consent to the storage of your samples and allowing their use. The samples you donate will be kept in storage for up to 10 years, but you may specify a shorter time if you wish.
In addition, notes will be made about your physical appearance (e.g. build, complexion, eye and hair colour) and these details may be used to match your characteristics with those of the recipients of your donated sperm.
Your details will be held on a register maintained by the HFEA as a safeguard against inappropriate sexual relationships between children sharing the same (genetic) father.
Donor-conceived adults can find out the identity of their donor when they reach the age of 18. It is therefore advisable that donors consider the impact of this properly at the time of donation. Often clinics will provide counselling in relation to the future consequences.
Technically, according to the HFEA (human fertilisation and Embryology Authority), you are not allowed to profit from sperm donation, but you're entitled to £35 per donation to cover reasonable expenses such as travel.
Eggs
The process of egg donation is much more difficult than sperm donation. The egg donor must be between 18-36 and before the donation takes place the donor has to be screened to limit the chances of genetic abnormalities and STIs.
If you're found to be suitable to donate you have a chance to make money selling your body and you'll be matched with a couple who have infertility issues. The donor is then given fertility drugs to administer at home; these stimulate the ovaries into producing a number of eggs.
It's important that the clinic monitors the donor closely during this time, as there can be side effects from the drugs. When ready, the eggs will be harvested either when the donor is sedated or under general anaesthetic. Once this process is completed successfully, the donor will receive their compensation payment.
In the UK the HFEA advises that payment for egg donation should be low so that people donate out of altruism instead of financial desperation. Payments are capped at £750 per cycle or course.
Considerations
You should take the decision to donate sperm or eggs very seriously as there are serious things to consider. Whilst you won't be the legal parent of the child, or in anyway financially responsible, at the age of 18 the child will have the right to trace the donor. Equally donating eggs is an invasive surgery and you have to consider whether the £750 is really worth it. Yet it must be remembered that those who are unable to conceive are totally dependent upon donors and therefore, in some way, you are going to make money selling your body by doing a good thing. The choice, however, is totally yours.
For further information read our article on making money donating sperm or eggs.
Be Donald Trump
Okay, this method of making money selling your body might be a little specific because most of us only look like ourselves, but if you have more than a passing resemblance to someone famous then becoming a lookalike is a fun way to earn some extra cash.
Very obviously, first of all you've got to have some idea of who it is you think you look like. If you're going to make any real money from this then chances are you'll have a good idea because people will already have commented on it.
Equally, how much money you can make will depend on who you look like. Unless you look the spitting image of an A-list star then you're unlikely to get a constant stream of bookings, so make sure you plan your finances accordingly.
Importantly you will have to buy clothes and props to make yourself look as much like your particular celebrity as possible. This might mean ordering a costume, constructing one yourself, wearing a wig or buying goofy teeth. The most iconic looks are always going to be the most popular – think of Jack Sparrow's pirate garbs. Always try to buy face-to-face so you know what you're getting fits, but if necessary you should be able to find what you need on the world wide web.
You're going to need to get some good photos if you're hoping to get signed by a good agency and get repeat business. The best way to do this would be to hire a professional photographer. However that can be quite pricey, particularly when you're only at the start of your career, so you may want to get a friend to take a few pictures of you. Just make sure the pictures are of a reasonable quality. To increase your chances of success, study the way your celebrity poses and adapt your own pose accordingly. You need to be as authentic as possible.
The next step is getting yourself signed up to an agency. Do a quick Google search to see if there are agencies near you. Ring around and contact as many as possible to increase your chances of getting on their books and, therefore, getting regular paid work. Some national agencies you could look into include: A-list, Spitting Images and Fake Faces. Each agency will have different processes for getting you signed up but all will require the photographs.
Once you've signed up, you should start to get bookings. How many you get will vary on the popularity of your celebrity, how good your photos are and just how much you look like the person. There are a whole variety of bookings you might receive, from entertaining at a small part to modelling or TV adverts. There shouldn't be a dull moment! Just try to make the most of each event, nail your celebrities mannerisms and try to master their mannerisms. The better you are, the more likely you will get recommended and earn more money!
You can earn up to £100 a day as a lookalike, so if you think it's something for you then you should give it a go! To find out more about being a lookalike, read our full article.
Sell pics of your feet
This is a more 'adult' way of making money so something you should only do if you feel comfortable doing so. There are, believe it or not, people who will pay good money for a picture of your feet.
You can use a site like 'FeetFinder' to sell pictures of your feet. FeetFinder has over 150,000 verified users, where all models are ID verified and all buyers must add a card to use the site in any way, and to beat the scammers: with FeetFinder you'll also have to pay – as a foot model – a monthly subscription of $2.99, but for that, the site will do all the marketing for you. 
Find out more about making money from your feet here.