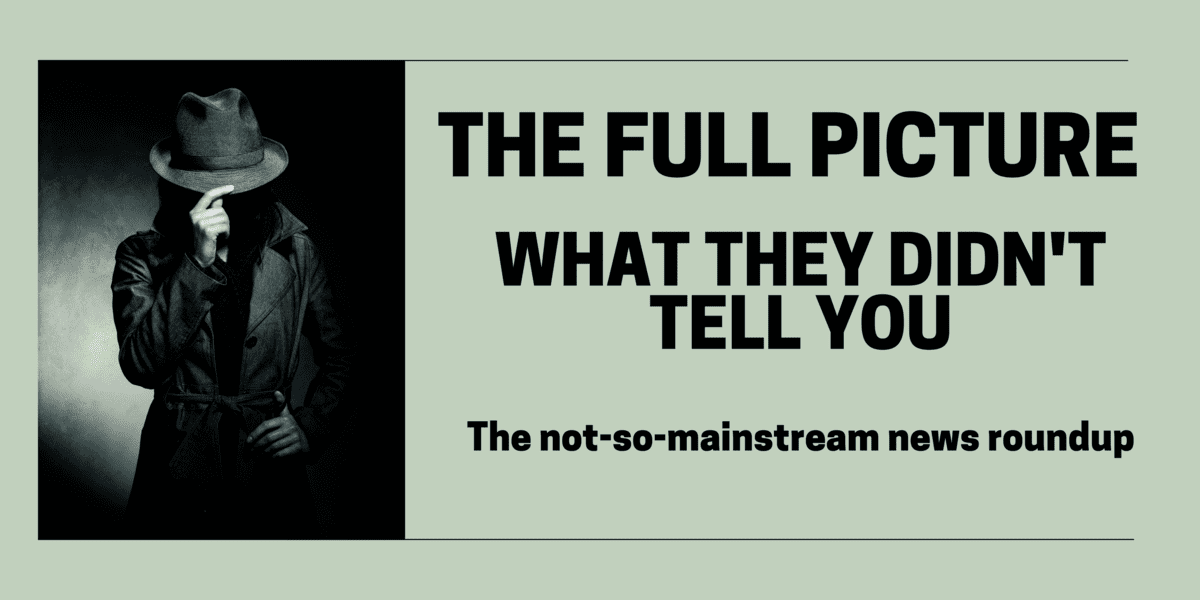 The Full Picture: What they didn't tell you
Reading Time:
3
minutes
The Full Picture: What they didn't tell you 
The news and contemporary media can be a great source of information on global events, politics, weather and sports. But the mainstream news can often be bias, pushing some happenings more than others, focusing on some topics heavily and neglecting others. 
Here at MoneyMagpie, we believe in the importance of sharing the latest that many mainstream outlets may have failed to, or deliberately chose not to, cover. 
Every week, we'll be rounding up some of the top stories that you may have missed.
Salaries being recalled by banks 
HR Businesses Partner Wes Griffiths posted the following on LinkedIn just yesterday:
The comments show many other people employees at automotive intelligence firm Wejo were facing the same confusion. After the firm entered a notice to enter administration earlier this week, it appears wages have been recalled after they landed in bank accounts at the end of the month as usual. 
Although it seemed to only be banks HSBC and First Direct affected, other high street banks have also started to recall wages. According to Prolific North, several staff suggested they have been forced into unauthorised overdraft or missed payments due to the unexpected withdrawal of funds.  
You can read more on this story here. 
What's going on in East Palestine, Ohio? 
In February of this year, huge fires occurred in East Palestine, Ohio, in the US, after a 38-carriage train carrying chemicals derailed. Five of the cars were carrying vinyl chloride, a substance that becomes hugely toxic when burned. 
Clean-up crews were forced to burn more toxic fumes even after the crash to avoid explosions. The crash is thought to have left as many as 45,000 animals dead, and the town's residents left with respiratory issues and skin irritation. 
But now, townsfolk are furious that this was ever allowed to happen, why people are not told of trains carrying dangerous chemicals are passing through their towns, and many suggesting officials are lying about their safety. 
News recently broke that in the first instance, frantic members of the public who called emergency services were told by officials not to evacuate. A huge number of people were told the train was simply carrying alcohol – not dangerous gases with links to liver cancer. 
According to The Daily Mail, when one grandmother desperately called the fire department, a dispatcher told her: 'They're not evacuating anymore, you're good'. Although some residents very close to the crash site were ordered to evacuate in case of an explosion, those further away were told they were safe. 
Greg Mascher, a father who lives close to the chemical spill, wrote a strong opinion piece for The Guardian. "Officials who say we're safe are lying," he declares, before outlining his worrying experience. In his piece, he writes that by the next morning after the crash, smog was thick in the air. The day after this, the Enivronmental Protection Agency (EPA) suggested they detected no contaminants in the air. 
Despite this statement from the EPA, Mr Mascher said: "My granddaughters had developed blotches all over their bodies. They looked like burns, as if they'd spent too much time next to a sun lamp. My seven-year-old granddaughter's leg was beet-red. They were coughing and their eyes were burning. I began to experience constant headaches and a nagging cough." 
This whole experience is leading many people, both in Ohio and beyond, were profits put before safety, could this have been avoided, and have people been lied to about the severity of the health implications of such a disaster? 
Read more here. 
Journalist detained by British police
The topic of free speech in the UK has been brought into question, after journalist Kit Klarenberg was detained at London's Luton airport and questioned for five hours about his work.  
According to media outlet The Grayzone, where Mr Klarenberg works, the journalist was also asked about his personal opinion on everything from the current British political leadership to Russia's invasion of Ukraine. 
Kit has previously been vocal about his opinions on censorship and free speech and has made headlines previously due to his exposés on the British government, the CIA and more. 
Here's what Youtube Channel 'Redacted' have said:
Other stories you may have missed