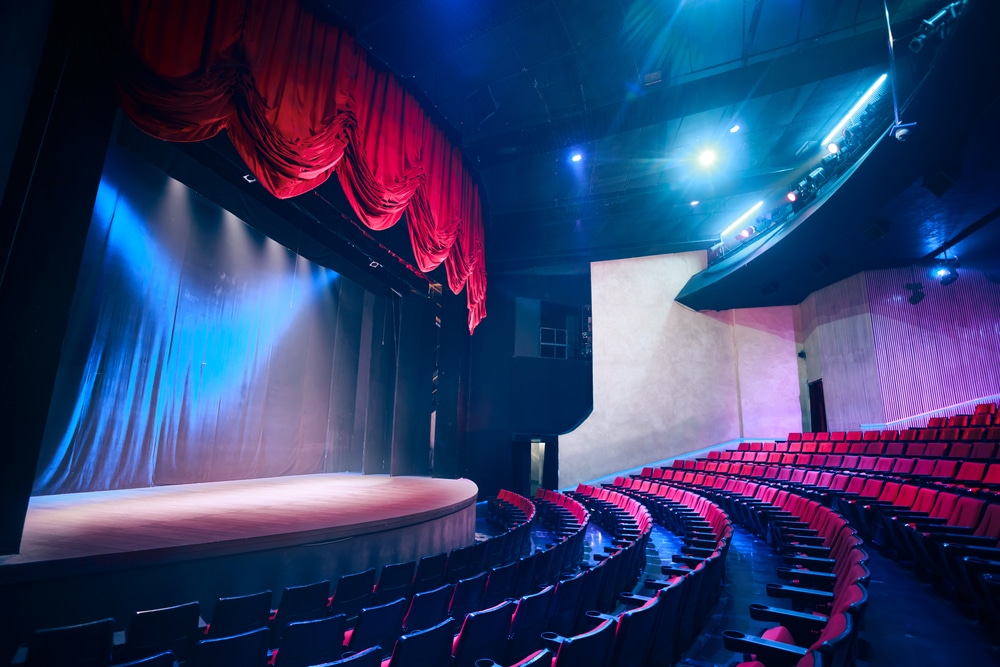 How to get cheap theatre tickets!
Reading Time:
8
minutes
Theatres are finally re-open after months and months of being closed, and theatre goers couldn't be happier. One of life's little pleasures is the rush of adrenaline you get when the lights go down, the curtain goes up and the music kicks into action. The tingle of excitement you feel, whether you are an avid theatre lover or not, is undeniable. The cost of theatre tickets, however, is not so exciting.
Now, more than ever, our theatres need our support. With millions lost in ticket sales and footfall still low, both our small local shows and larger scale productions need our support. We understand, however, the cost of living is at a high, and the amount of disposable income available may be low.
But fear not, we have you covered. Whether you are a fan of musicals, prefer plays, or enjoy both, here's how to get cheap theatre tickets.
Reduced tickets
There are plenty of websites on the internet that offer theatre tickets for reduced prices. Here are some of our favourites.
TodayTix
TodayTix offers last minute theatre tickets for London shows. With tickets starting at as little as £8, it's a no-brainer. There are plenty of shows to choose from, so you won't be stuck for choice. Whether you fancy a musical, comedy, play or dance show, there's something for you on TodayTix.
If you are in the mood to dance, Jersey Boys may be for you. If you fancy a thriller, The Woman in Black will get you spooked. There are so many shows to choose from, there will be something you can all agree on.
Theatre Tickets Direct
Want something fun and low-cost to do this half term? Theatre Tickets Direct has got your back. Tickets to see family favourites such as Frozen The Musical – yes, the same Frozen that had you singing Let It Go for six months – and Mary Poppins are available at low prices. Truly scrumptious!
You could get up to 40% off your tickets. Plus, Theatre Tickets Direct boasts exclusive prices for Back To The Future The Musical and no booking fee for Mamma Mia and Saturday Night Fever – perfect for a boogie.
Only Fools and Horses also makes an appearance. Yes, the comedy classic is now on stage. If you are fan, you can grab a deal with tickets from £16.50. Go for it, Rodney!
SeatPlan
SeatPlan have limited time offers that you can take advantage of for many of the biggest musicals.
Not only that, but they offer a unique booking experience which allows you to see user-uploaded view from seat photos so you know exactly the kind of view you're going to be getting.
This is a great way of assessing whether a cheaper seat is worth taking a punt on – not all cheaper seats with 'restricted views' are as bad as they sound, so it could be a great way to save some money.
Little Bird
Lesser-known ticket website Little Bird is aimed specifically at families. You can filter your searches by ticket price and the age of any children you are bringing along. This means you get recommended shows which are specifically catered to you and your needs.
Little Bird is currently promoting Life of Pi as their show of the week, with tickets at just £25. Although this price may be higher than some other shows, it is perfect for a birthday treat or to celebrate a special occasion. Plus, it beats what they usually cost, which is between £45 and £70.
Little Bird also offer an annual family pass, which provides 10% off theatre tickets. The pass also gives families up to 40% off cinema tickets, kids eat free promotions in certain restaurant and a whopping 50% off at top family attractions and theme parks. Sounds like a good deal, if you ask us.
Holiday Extras
Holiday Extras offers a slightly different option. If you do not live in or around London, and fancy a weekend break in the capital city, you can get discounted prices on both theatre tickets and your overnight stay.
It is a quick and easy way to plan your trip, and bundle and package deals mean you will be saving money. Choose your show and then have a browse and see which hotels you can package together with your show tickets.
You won't be disappointed with the show options at Holiday Extras, either. Tina: A Tina Turner Musical is the acclaimed musical surrounding Tina Turner, detailing her life from humble beginnings to the Queen of Rock 'n' Roll. If that doesn't tickle your fancy, or you need something more suitable for children, why not see Roald Dahl's beloved Matilda come to life on stage.
Love Theatre
Love Theatre is a crowd favourite, as it offers tickets to musicals, plays, operas, dance specials and events such as live orchestras. If you are in the mood for extraordinary vocals, Wicked may be a good choice. You can see the untold story of the witches of Oz from £22.75. Andrew Lloyd Weber's The Phantom of the Opera is a popular option.
If you fancy a bit of drama, why not get tickets to see Agatha Christie's The Mousetrap, from £22.64. If you'd prefer a play that offers some comic relief, perhaps The Play That Goes Wrong, from £23.30, would be more up your street.
As mentioned previously, there is a huge variety of genres to choose from. You could even see Strictly Come Dancing's Aljaž Skorjanec & Janette Manrara strut their stuff in Remembering The Oscars.
Stagedoor
Stagedoor is both a website and a mobile app, so you can get cheap theatre tickets at the click of a button and on the go. Plus, there are tickets to lesser-known shows and plays. It also gives you the scoop on shows coming soon, so you can get in quickly.
Stagedoor offers all the classics, including Moulin Rouge! The Musical and Six, the hilarious untold story of Henry VIII's six wives. If you are celebrating a hen do or having a girl's night out, Magic Mike Live will get your heart racing. If you are in the mood for something a little tamer, 2:22: A Ghost Story, will give you chills.
Independent Theatre
Some smaller and independent theatres offer cheap ticket schemes for their audiences.
OffWestEnd
OffWestEnd offers tickets to hundreds of unique and independent theatres across London. If you aren't in the mood for watching a huge show or want to broaden your horizons with something new, why not search for an independent, local show.
Plus, they are far cheaper than West End tickets, and the quality of performance is just as great. It's a win, win really.
Theatre Festivals
Hundreds of festivals dedicated to the arts take place across the UK every single year. Many of these were unable to go ahead during lockdown and will be back with a vengeance this year.
What's great about these festivals is they aren't based mainly in London, as a lot of shows are. They also show a huge range of talent, from small independent performers, to touring shows. You may get to see a west end favourite as part of a touring show, and ticket prices are always much cheaper for these.
The British and International Federation of Festivals is a great tool to find theatre and performing festivals near you. Their events calendar spans the entirety of 2022. Check out the events calendar here.
Fringe Festivals
Many of us think of The Edinburgh Fringe when we think of fringe festivals. But did you know, there are around 85 fringe festivals taking place in the UK this year?
From Bedford to Colchester, Liverpool to Swindon, there are an abundance of fringe locations to visit. You can find your nearest fringe festival here.
It is important to support fringe festivals to support the arts, but particularly after the large number of cancelled and postponed festivals of the last few years. Fringe festivals often do not have a huge budget to produce the programmed event. Therefore, it is about support, development, accessibility and getting people involved. This includes artists, venues and audiences all working in tandem to deliver a unique and enjoyable event.
Ticket schemes 
Do you know some theatres have dedicated ticket schemes? Sometimes they reduce the cost of tickets if a certain performance hasn't sold as many tickets as they had hoped. Other theatres reduce the ticket prices for certain performances and others hold back a certain number of tickets which they sell for between £10 and £15.
Here are just some of the theatres that offer dedicated ticket schemes:
The National Theatre – One of London's biggest theatres offers hundreds of tickets for £15.
Almeida Theatre – Another London based theatre, the Almeida releases last-minute tickets every Tuesday at 1pm. Referred to as the 'Almeida Rush', it's first come first served!
Royal Court Theatre – This theatre has a similar release for last minute tickets to the Almeida Theatre. Every Monday at 9am, tickets are released for that evening's show. Get in quick!
Pay what you can
A quick internet search of 'Pay what you can theatre tickets' brings up a host of theatres offering tickets at affordable rates. This scheme makes theatre accessible to everyone, no matter what your budget. Whether you can afford £1, £2.50 or a fiver, that's what you pay.
Many theatres put a restriction on the number of tickets per person. This may also be limited to certain performances or certain days of the week. Other theatres throw in a free programme too. Each theatre is different, so be sure to check.
Theatres which take part in this scheme include Arcola Theatre London, Southwark Playhouse London, Shoebox Theatre Swindon, Battersea Arts Centre London and more. A google search will help you locate your nearest participating theatres.
Love Your Local Theatre Campaign
From 1st February 2022, UK Theatre launched a 2-for-1 theatre ticket offer for National Lottery players through Love Your Local Theatre. Over 100 theatres nationwide have signed up for the new campaign, for which The National Lottery is providing up to £2 million to subsidise over 150,000 tickets.
Throughout March, National Lottery players can get 2-for-1 theatre tickets for performances of hit shows. Such shows include Everybody's Talking About Jamie, Blood Brothers, Abigail's Party, Magic Goes Wrong, Peppa Pig and more!
Don't miss out on your chance to get your hands on some 2-for-1 tickets. You can find available tickets here.
Top deals with official London Theatre
It's showtime! Get mazing deals to over 40 top London shows, plus offers at restaurants, shops and hotels to help you make the most of your theatre trip. Whether it's an impromptu show with friends, a family get-together or the date night you keep putting off planning – treat yourself, it's about time.
You might be familiar with Official London Theatre's annual New Year Sale, where you can get tickets for just £10, £20, £30, £40 or £50 for some of London's hottest shows. This year, for the first time ever, they have extended these great prices for performances all the way up to 31 March!
You can finally catch musical theatre classics that you've always meant to see like Disney's The Lion King and Phantom Of The Opera, or experience one of the hit new shows taking Theatreland by storm like Back To The Future – The Musical or Andrew Lloyd Webber's Cinderella. There are even a bunch of Olivier Award-winning shows included, like & Juliet and Dear Evan Hansen.
Book to revisit a favourite or see something completely new, whatever you choose we've saved you a seat, it's Show Time now at OfficialLondonTheatre.com.